2018 was a huge year at Mediterranean Living. We tried so many different kinds of recipes such as vegan, gluten-free, anti-inflammatory, slow-cooker, and, of course, the Instant Pot. These ten recipes were our most popular recipes of 2018. You'll notice that the Instant Pot recipes were extremely popular. It's been really fun and challenging to create/adapt Mediterranean diet recipes for the Instant Pot Cooker. If you don't have an Instant Pot, however, don't worry, most of the instant pot recipes include the original recipe that the Instant Pot version was adapted from.  Not only is this the recipes you chose the most, it includes some of my favorite Mediterranean food.
The Lebanese Hummus, Baba Ganoush, and Authentic Greek Salad are great healthy sides for any meal. The Authentic Greek Salad is my go-to salad and Lebanese Hummus is absolutely one of my go-to meze recipes. If you love fried food then the Olive Oil French Fries are the perfect Mediterranean diet recipe for you. Whenever I host or attend a dinner party, these french fries fried in extra virgin olive oil are always a hit. If you need a good extra virgin olive oil for frying, check out our Cretan extra virgin olive oil in the store.


One of my favorite recipes on this list is the Mediterranean Spice Blend. This is a beautiful mixture of spices, some toasted for more depth of flavor, that you can use to season so many different foods. It's great as a dry rub or you can add it to a wet marinade. You can add it to a salad dressing, an omelet, season roasted potatoes, the possibilities are endless.
The Mediterranean chicken marinades are an extremely easy way to give lots of flavor to grilled chicken. I like grilling up some of this chicken on the weekend and having juicy, flavorful chicken throughout the week to put on my salads for lunch.
With 2018 in the books, I hope you enjoyed all of our recipes from last year and I hope you're ready for a plethora of new easy, healthy Mediterranean recipes coming in 2019. Happy New Year!
#10 –  3 Mediterranean Chicken Marinades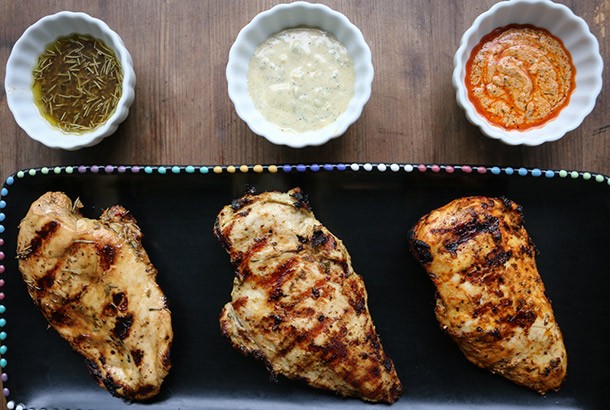 Looking for an easy chicken marinade? Chicken breast can be dried out if you don't marinate it. When you marinate chicken, it adds so much flavor and enhances the flavor of the actual chicken. These are three marinades that I make all the time because they're quick, I have the ingredients on hand, and the chicken always comes out tender and flavorful. You can use these marinades for other meat, but chicken works best. All of these marinades are adaptable to your taste. If you add or subtract an ingredient, they'll still work great.
#9 – Baba Ganoush (Lebanese Eggplant Dip)
A couple weeks ago we gave you a Lebanese hummus recipe, and now we are giving you a similar traditional Mediterranean diet recipe called Baba Ganoush. Lots of Mediterranean cultures have their version of an eggplant dip. This eggplant dip is smokey, earthy, and garlicky. The process of making Baba Ganoush is very similar to hummus in that you blend everything up in a food processor until your desired consistency. Instead of garbanzo beans (chickpeas) though, we use a roasted eggplant. You bake the eggplant in the oven with the skin on for 50 minutes and let it cool enough to handle. Once its cool it will be easier to peel the skin off to reveal the flesh. The eggplant flesh gets blended up with the rest of the ingredients. We like to serve Baba Ganoush as a dip or as an appetizer. We dip good bread, pita bread, or grilled veggies in the Baba Ganoush. If you liked the Lebanese hummus recipe, definitely try this one too!
#8 – Mediterranean Spice Blend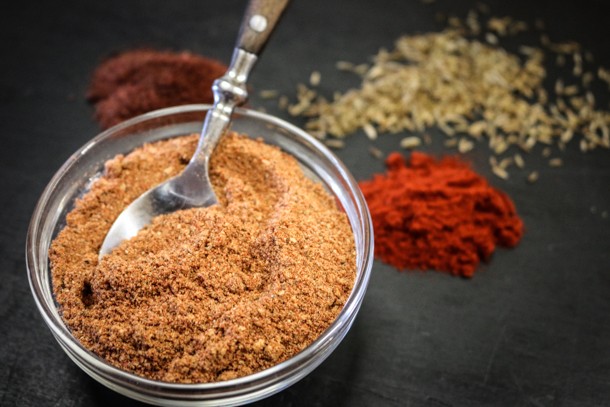 Not only does this Mediterranean spice blend work in salads like our Chickpea Salad with Citrus Vinaigrette, it is also an amazing dry rub for meat and fish. The toasted cumin seeds and smoked paprika give this spice blend an unbelievable smokey and earthy flavor. It also goes great in any wet marinade, like a Greek yogurt marinade for chicken with a Tablespoon of this spice blend mixed in. I've added a teaspoon of this to tomato sauce and it transformed it into a completely different sauce which created a whole new delectable sauce. I'm excited to see what other uses I can come up with this spice blend, and I'm happy to hear your ideas too! Enjoy!
#7 – Olive Oil French Fries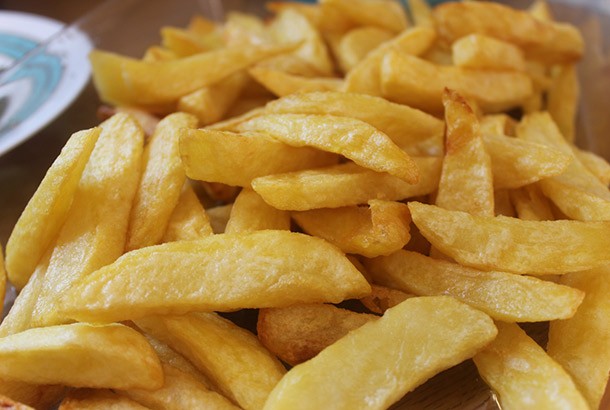 Potatoes are a food staple in Crete. My uncle, who lives in a small Cretan village, has a large plot of land dedicated just to potatoes. He grows enough potatoes for the entire year for his family. His basement is literally filled with potatoes, (covered with flour to help preserve them). When I lived in Crete with my aunt and uncle, we ate potatoes practically every day. My aunt would roast them in the oven, put them in stews, boil them for Horta, and, of course, make olive oil french fries.
#6 – Horta (Greens) and Potatoes in the Instant Pot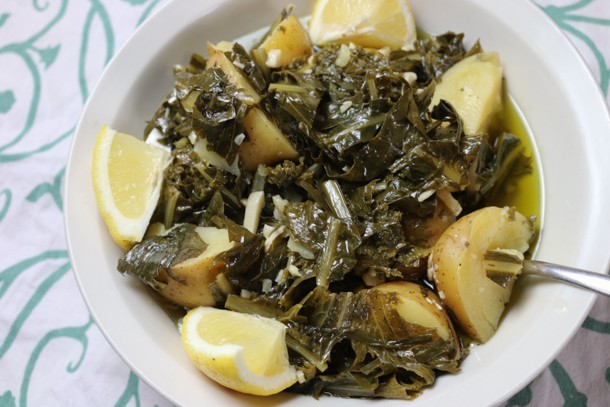 This horta recipe has been one of our most popular recipes on Mediterranean Living for a long time and now the Instant Pot version is here! The normal version takes around an hour to cook. Horta (Greens) and potatoes in the instant pot takes only 15 minutes! The end result is amazingly the same.
#5 – Authentic Greek Salad (Horiatiki Salata)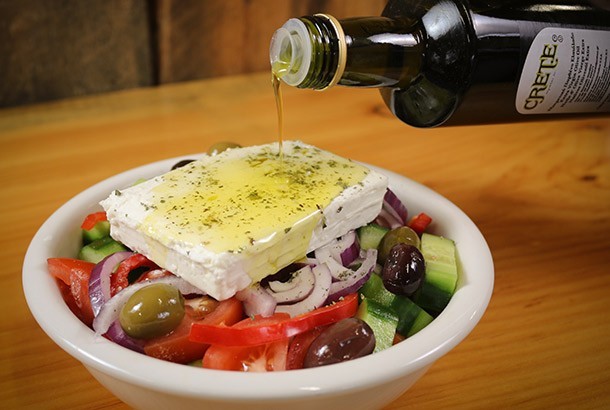 In 2014, I visited Greece for the first time.  I had waited my entire life to eat real  Greek food seeing that I'm half Greek.  I was also hoping to collect some authentic Mediterranean Diet recipes. I arrived in Athens and was set to go on a study tour throughout the country. I got to my hotel and the study group was waiting for me to go to dinner together. I put my luggage in my room and we walked through the busy streets to a traditional Greek taverna. The waiter brought us bread with extra virgin olive oil to dip. The oil was so good. Then he brought the greek salad. This was a moment I will never forget. I took one bite of a red, juicy tomato slice and I thought to myself "What have I been eating my whole life?!" This was the sweetest, most flavorful, deep red, and beefy tomato I had ever sunk my teeth into.
#4 – Lebanese Hummus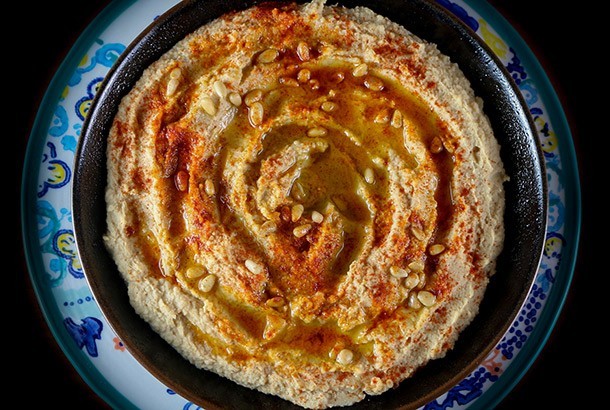 The variety of different types of hummus in the grocery store is growing rapidly. The thing is, homemade hummus is so inexpensive and easy to make that the store-bought hummus won't taste the same after you try this version. Hummus is a traditional Mediterranean diet recipe and is made with extra virgin olive oil, not canola oil, while most store-bought hummus contains canola oil. Your homemade hummus will already taste better and be healthier with extra virgin olive oil.
#3 – Instant Pot Fasolakia (Green Beans and Potatoes in Olive Oil)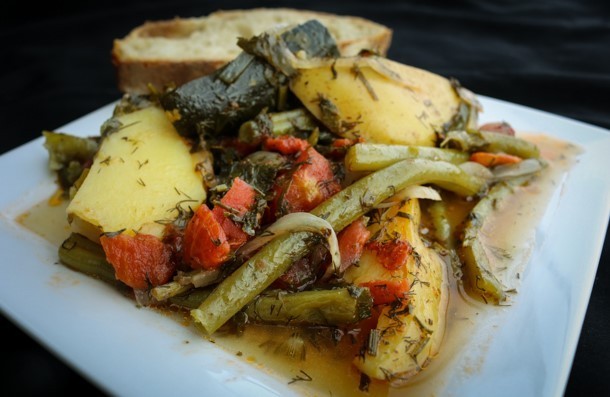 Beans are huge in the Mediterranean Diet. Fasolakia is a very traditional  Greek dish in the "ladera" family. "Ladera" are foods cooked in a lot of olive oil that are served warm or at room temperature. They are usually cheap to make but very filling and delicious. This is one of the best instant pot recipes i've tried.  Fasolakia is best in the summer when fresh green beans are available. My aunt in Crete likes to add potatoes and zucchini to this dish which makes it more filling. I thought this would be a perfect recipe to adapt for the Instant Pot cooker. This recipe usually takes an hour to cook on the stove. It's amazing how the Instant Pot can fully cook the potatoes and beans in only 15 minutes!
#2 – Instant Pot Green Beans with Pork and Potatoes
This is a slow-cooker Mediterranean diet recipe adapted for the Instant Pot. The original version of Instant Pot Green Beans and Pork took at least 6 hours in the slow-cooker, but now you can make this recipe in 30 minutes or less! This is the perfect meal to make when you get home from work because your family will think you spent hours cooking. The pork cooks down to be fork tender. The potatoes, green beans, carrots, and celery cook all the way through but don't get mushy. It tastes like it's been cooking all day long.
#1 – Instant Pot Moroccan Chicken Tagine with Green Olives, Peppers, and Lemon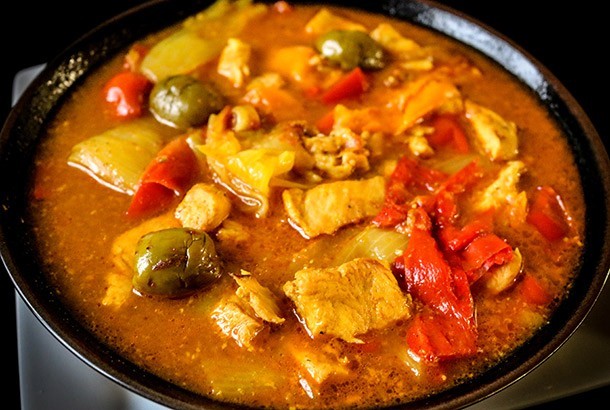 This Moroccan inspired dish is a fusion between a Mediterranean Diet recipe and the flavors of New England.  I have cooked this for thousands of people in my workshops and many have told me that I should bottle the sauce.  It is the perfect blend of sweet and tangy, combining honey, molasses and Dijon mustard with Moroccan spices.  You can cook this on the stove top, a Dutch oven or in a crockpot, but here we use an instant pot which cuts the cooking time in half and the instant pot chicken comes out even more tender than other cooking methods.
Download our Free e-Book Today!