This is a slow-cooker Mediterranean diet recipe adapted for the Instant Pot. The original version of Instant Pot Green Beans and Pork took at least 6 hours in the slow-cooker, but now you can make this recipe in 30 minutes or less! This is the perfect meal to make when you get home from work because your family will think you spent hours cooking. The pork cooks down to be fork tender. The potatoes, green beans, carrots, and celery cook all the way through but don't get mushy. It tastes like it's been cooking all day long.
This recipe works really well for the person who is a meat and potato eater who wants to gradually head towards eating the Mediterranean diet. Extra virgin olive oil makes vegetables taste delicious.  I would serve this with a Greek salad and some nice crusty whole grain bread. You will  want to dip your bread in the delicious tomatoey sauce. You won't want to waste a single drop!
The Instant Pot makes delicious sauces even though you can't stir it while it's cooking, which is pretty amazing. All of the flavors stay in the pot because they don't have anywhere to go. When you make a stew on the stovetop, some of that flavor will evaporate into the air. The recipes that I've made in the Instant Pot have been just as flavorful, if not more flavorful, than the original versions of these recipes, but cooked in a fraction of the time. I love this about the Instant Pot. Enjoy this recipe!
For a vegan version of this recipe click on the link below!
Instant Pot Fasolakia (Green Beans and Potatoes in Olive Oil)
For the original version of this Instant Pot Green Beans and Pork recipe click on the link below!
Green Beans with Pork and Potatoes In the Slow Cooker (Greece)
Photo Credit:  Christine Dutton
Purchasing an Instant Pot
The Instant Pot we use is the 6 quart version.   It is just right for recipes that serve 4 all the way up to 8 servings.  For us, it seems to be the perfect size. Below is the one we purchased from Amazon.  I highly recommend it!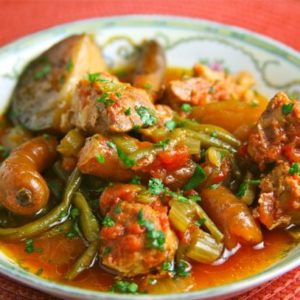 Instant Pot Green Beans with Pork and Potatoes