Versatile tuna patties
These small French tuna patties are quick to make and require only ingredients that you probably already have. Don't worry if you have most of the ingredients, but are missing one or two. These patties adapt to what you have, especially with herbs. If you don't have parsley, but you do have dill then use dill. If you don't have shallots, add onions. Tuna patties work with lots of different ingredients.
Everyone will love them
Tuna patties are the perfect recipe for everyday life because it is very inexpensive yet tastes so good. The French are clearly beginning to reduce their meat consumption and are looking for veggies or fish-based alternatives to eat at lunch or in the evening. This is why tuna patties are a common recipe that we enjoy. It also great for kids as they love this healthy version of a fish stick. You can also make this recipe with them.  You have to put your "hand to the dough" as the French say and it amuses them a lot.
What to serve with tuna patties
To serve, nothing fancy is required with this recipe. If you want to eat light, serve them with vegetables or salad. It will be the perfect refreshing summer dinner. You can also make them a little thicker and enjoy them between two salad leaves, tomatoes and onions and eat them like a light burger. Do not hesitate to make a homemade tzatziki to accompany them, it goes very well or just top with plain yogurt or sour cream. Finally, for the evenings with summer friends, make these patties in small balls and bake them in the oven, they will be crispy and delicious dipped in a creamy sauce.
Other Mediterranean recipes with tuna
Tuna Salad with Egg and Potato (Country Salad from Spain)
Italian Tuna Salad Sandwiches with Black Olive Dressing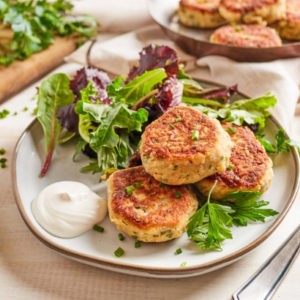 Tuna Patties Fried in Olive Oil (France)