Phyllo pies are one of the staples of the Mediterranean Diet.  On the island of Crete, we make many different types of phyllo dough recipes from cheese pies to spinach pies to baklava.   This vegetable phyllo pie is one of my favorite recipes from the time I was a kid to now.  When I was younger, I would help my Mom roll out homemade phyllo.  All of the ingredients were from our own land and this dish was made during zucchini season when zucchini were large and plentiful.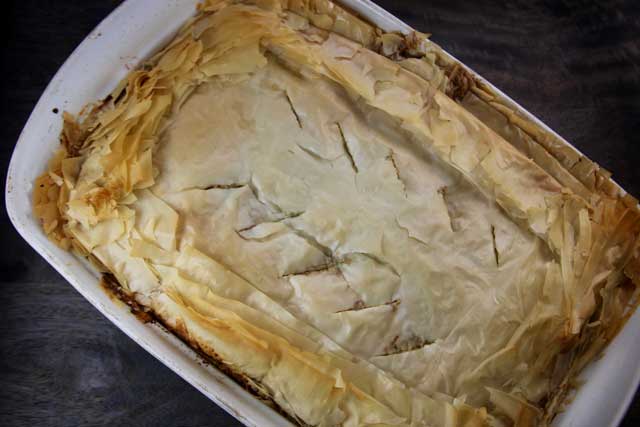 A few tips on working with the phyllo:
If possible, if you are working with frozen phyllo, take out of the freezer the day before you are going to use it and put it in the fridge.  This will give it a chance to thaw evenly.
Work quickly with phyllo once you take it out of the box.  Using a pastry brush, brush the pastry from the edges toward the center.
Don't worry if a few sheets rip.  You can still use them, just layer them on with the rest of the phyllo.
Once the vegetable pie is done cooking, let it cool for about ten minutes.  Serve as the main course for dinner with a simple salad or as an appetizer or meze.
SaveSave
SaveSave
SaveSave
Save