Try this delicious Italian rice with raisins (Riso coll' Uvetta) from Veneto. This is another traditional family Mediterranean Diet recipe from Siena Terenzio.  Rice with raisins might seem unusual, but I have to say it's absolutely delicious!
The largest rice producing areas in Italy are in the region of Lombardy. Although this is known, the Venetians have their own rice specialties unlike those of the Lombard's. For example, in Veneto rice is never eaten alone; for this reason, the creation of rice with raisins was born.
Raisins are not a conventional ingredient in northern Italian cooking. Raisins are more typically used in Sicily because the Sicilian cuisine has some Arab, and Greek influences.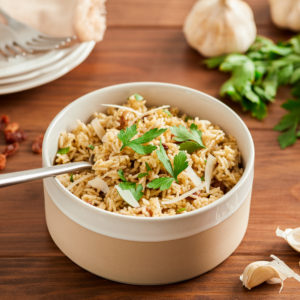 Italian Rice with Raisins (Riso coll' Uvetta)
Ingredients
1/3

cup

raisins, soaked in water or wine for 10 minutes

2

cloves

garlic

3

tbsp.

olive oil

2

sprigs

parsley, finely chopped

1 1/4

cups

rice (of your choosing)

5

cups

boiling stock or water

1/2

cup

grated parmesan cheese
Instructions
Drain the raisins from the water or wine and pat them dry.

Keep one clove of garlic whole, and finely chop the other. Fry the whole garlic, as well as the chopped garlic, with oil and parsley in a large heavy pan. Once the whole garlic is browned throw it out, keeping the chopped garlic, oil and parsley.

Add the raisins and then the rice to the oil and cook on medium heat for another 5 minutes, stirring continuously.

Add a cup of boiling stock or water. Once the cup of stock or water has been absorbed, add another cup. Continue adding a cup at a time and letting it absorb until the rice is soft but still moist. Depending on the type of rice used, you may use up to 10 cups of liquid.

Once the dish is ready, sprinkle with the grated Parmesan cheese and enjoy!
Nutrition
Calories:
416
kcal
Carbohydrates:
60
g
Protein:
9
g
Fat:
15
g
Saturated Fat:
4
g
Cholesterol:
11
mg
Sodium:
1373
mg
Potassium:
191
mg
Fiber:
2
g
Sugar:
3
g
Vitamin A:
776
IU
Vitamin C:
2
mg
Calcium:
162
mg
Iron:
1
mg