Flatbreads in the Mediterranean Diet
Flatbreads are very popular in most Mediterranean countries. Each has their own name and version, but they all pair amazingly well with the regional dishes of each. There are many reasons that they are so popular. Nothing is better than tearing off a piece of soft, warm pita bread and using it to scoop the magnificently colored Muhammara or smoky Baba Ganoush into your hungry mouth.
Pita Bread is Easy to Make
Pita bread is surprisingly simple and easy to execute. A little extra effort carries a huge reward and is worth every moment of preparation to savor these delectable treats. Have you ever tried a freshly baked or grilled pita? You must. The difference is night and day from the store-bought cracking and crumbling dry breads. These are fluffy, pliable and even suitable for rolling if cut large enough. The perfect vehicle for any spread, fresh pita is the perfect addition to any meze. Making your own bread is cheaper, healthier and easier than you have ever imagined. I hope you try this quick and easy Mediterranean flatbread. Your tastebuds will thank you for it.  The most important tip for a successful pita bread is having the right temperature water (between 105 and 115 degrees F) for the yeast.  The rest is simple: Make a dough, let it sit for 2 hours, roll out and bake.  It is one of the simpler breads to make.
Recipes to Accompany Pita Bread
Pita bread is perfect for any Mediterranean Diet meal plan which is why it is so popular in the Mediterranean.  From crunchy pita chips in a Fattoush salad to a stuffed pita full of fresh tomatoes, falafel and tahini sauce, pita bread has many versatile uses.  Here are 7 of our favorite recipes that are complimented by pita bread.
Fattoush Salad and Mezze Platter from Better Food Guru
For more recipes from the Sara Tercero check out her website Better Food Guru or on Instagram.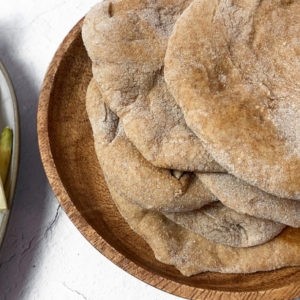 Whole Wheat Pita Bread
Ingredients
2

cups

whole wheat flour plus 3/4 cups for kneading and rolling

2

tsp

activated dry yeast

1

cup

warm water

1

tsp

turbinado sugar (can use white or brown sugar)

1 1/2

tsp

salt

2

tsp

extra virgin olive oil
Instructions
Add yeast and sugar to warm water (Between 105 and 115 degrees F) and stir well, let sit for 5 minutes to activate in a large bowl

Add salt, oil and 2 cups whole wheat flour and mix with hands until a ball of dough forms. It will feel slightly wet so you can add a little more flour until it comes together and you can knead it a few times. (This is why recipe calls for an extra 3/4 cup flour for kneading)

Cover bowl with a clean, damp dish towel. Put in a warm place and let sit for 2 hours to proof.

Preheat oven and sheet pan at 375 degrees.

Take dough ball and put on lightly floured cutting board or counter and divide in 8 smaller balls. Roll out flat with a rolling pin to about 1/2 inch thick and 3-4 inches in diameter.

Place pita breads on hot sheet pan in preheated ov