When you take a bite of perfectly roasted 40 clove garlic chicken with the soft garlic that's been melting away in the olive oil, wine, and herbs, you'll want to savor every bite. There's just something about those warm garlic cloves that just disintegrate under your fork and mix with the olive oil they were cooking in that makes this dish addicting. If gluten or grains don't bother you, a loaf of your favorite bread is a must for this meal. I recommend brushing a few slices with olive oil and toasting it in the oven for a few minutes.
This is an anti-inflammatory recipe. Garlic is one of the more well known anti-inflammatory foods. There have been many studies that correlate the intake of garlic with reduced risks of cardiovascular disease. The chance of blood vessel damage from chronic excess inflammation has been shown to decrease when consuming garlic regularly. Extra virgin olive oil is also a strong anti-inflammatory food that protects against cardiovascular disease and other inflammatory diseases. Besides this recipe being anti-inflammatory, the herbs help with digestion.
Here are a few tips for this recipe:
Cheat on time by buying already peeled whole garlic cloves. Nobody wants to sit there peeling 40 garlic cloves. Take the easy route!
Use a cast iron skillet. Not only does it make this a one-pot meal, but it makes for a beautiful presentation!
Don't skimp on the salt and pepper when seasoning the chicken.
I would serve this chicken with a salad and a vegetable side. Check these out for inspiration!
Salads:
Chickpea and Spinach Salad with Avocado (Greek Island of Crete)
Avocado, Radish, and Cucumber Salad
Sides:
Oven Fried Potatoes with Mediterranean Spice Blend
Sauteed Mushrooms with Garlic and Thyme 
Let us know if you give this recipe a try and rate and review.  Enjoy!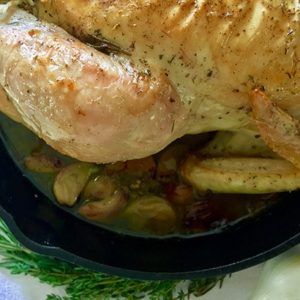 40 Clove Garlic Chicken
Ingredients
3-4

pounds

1 whole chicken

1

tbsp

extra virgin olive oil 

1

tsp

dried oregano

1

tsp

dried thyme

1

tsp

dried rosemary

1/4

cup

extra virgin olive oil

40

cloves

garlic, peeled

Splash of white wine
Instructions
Preheat oven to 350 degrees Fahrenheit.

Drizzle the whole chicken with 1 Tablespoon extra virgin olive oil. Season with salt, freshly cracked black pepper, oregano, thyme, and rosemary.

Heat a cast iron skillet on medium and add the 1/4 cup of extra virgin olive oil. Add the 40 peeled garlic cloves to the pan. Cook for 1 minute. Add a splash of white wine and cook for 1 more minute.

Place whole chicken on top of garlic cloves and bake in the oven at 350 for 1 ½ hours, or until internal temperature reaches 165 degrees fahrenheit when read by a thermometer.

Let chicken rest before slicing. Serve with bread (gluten-ful or gluten free). Smear garlic cloves on bread and enjoy!
Nutrition
Calories:
548
kcal
Carbohydrates:
10
g
Protein:
32
g
Fat:
42
g
Saturated Fat:
9
g
Polyunsaturated Fat:
7
g
Monounsaturated Fat:
23
g
Trans Fat:
1
g
Cholesterol:
122
mg
Sodium:
120
mg
Potassium:
438
mg
Fiber:
1
g
Sugar:
1
g
Vitamin A:
250
IU
Vitamin C:
12
mg
Calcium:
85
mg
Iron:
3
mg