All Recipes or Posts by
Artemis Morris, N.D., L.A.c.
Show Recipe
Show Post
Nestled among the olive trees, about a half hour (40 km) from the ancient city of Sparta, in Peloponnese Greece, a fertile and mountainous region, lies a treasure of experience in eating from the earth and natural living. Eumelia http://www.eumelia.com is a biodynamic farm and ecotourism site that exemplifies sustainable living at its best, while […]
Join Artemis Morris, author of The Anti-Inflammation Book for Dummies as she shows you where to eat, what to do and shares some of the incredible recipes from the Greek island of Paros.
JOIN OUR 10 WEEK PROGRAM
 Next Session Starts November 2nd, 2020
The Mediterranean Way 10 Week Diet & Lifestyle program teaches you everything you need to know to easily and deliciously get the benefits of the proven healthy Mediterranean diet. Meal Plans, Recipes, Shopping Lists, Weekly Challenges and Lessons, Private Facebook Support Group, Cooking Videos and more!
"This program is a way of life, one which I have adopted successfully, and more importantly one which I have sustained for over one year now. My weight remains steady at 160 pounds (down from 216). My energy levels rival that of someone 20 years younger than me (I'm now 57), enabling me to exercise in any way that I desire, from lifting weights to intense cardio sessions."
— Michael Little
"After completing my 10-week program, I had a regularly-scheduled appointment with my doctor. Because my cholesterol has always been above the normal range (229 last year) I requested that she test it again this year. I'm happy to report that my total cholesterol dropped to 169, which is in the normal range, and all my other numbers improved as well."
— Claire C.
Sign Up For Our Newsletter
Foods of Crete Cookbook
"The scientifically acclaimed "Mediterranean Diet" is presented at its best here, with the liberal use of olive oil and plenty of vegetable and fish dishes in addition to mezedes (appetizers), meat dishes, desserts, and pretty much every Cretan dish you can think of." - Mary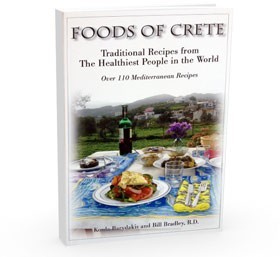 Join Us on Facebook