This traditional Cretan dish is a Mediterranean Diet favorite that will warm you and fulfill you. Rich enough to serve as an entree for a Sunday dinner, yet, quick and simple enough to enjoy any night of the week. Serve with crusty sourdough bread for sopping up the delicious sauce from your bowl. I also recommend the Greek Salad or Cucumber-Tomato Salad with Feta and Fresh Mint to go with this meal.  This Beef Stew Instant Pot version was adapted from an original stovetop recipe, Beef Stew with Eggplant, Zucchini, and Tomatoes (Greece)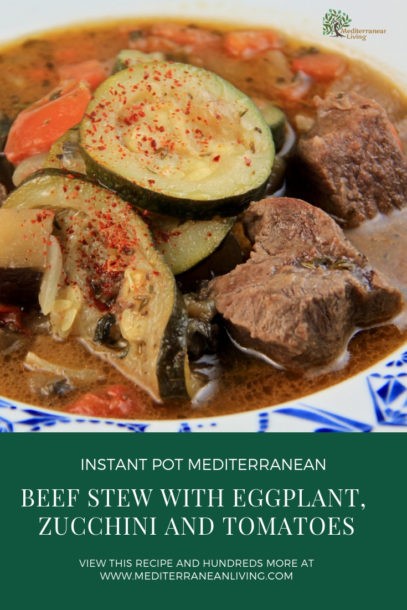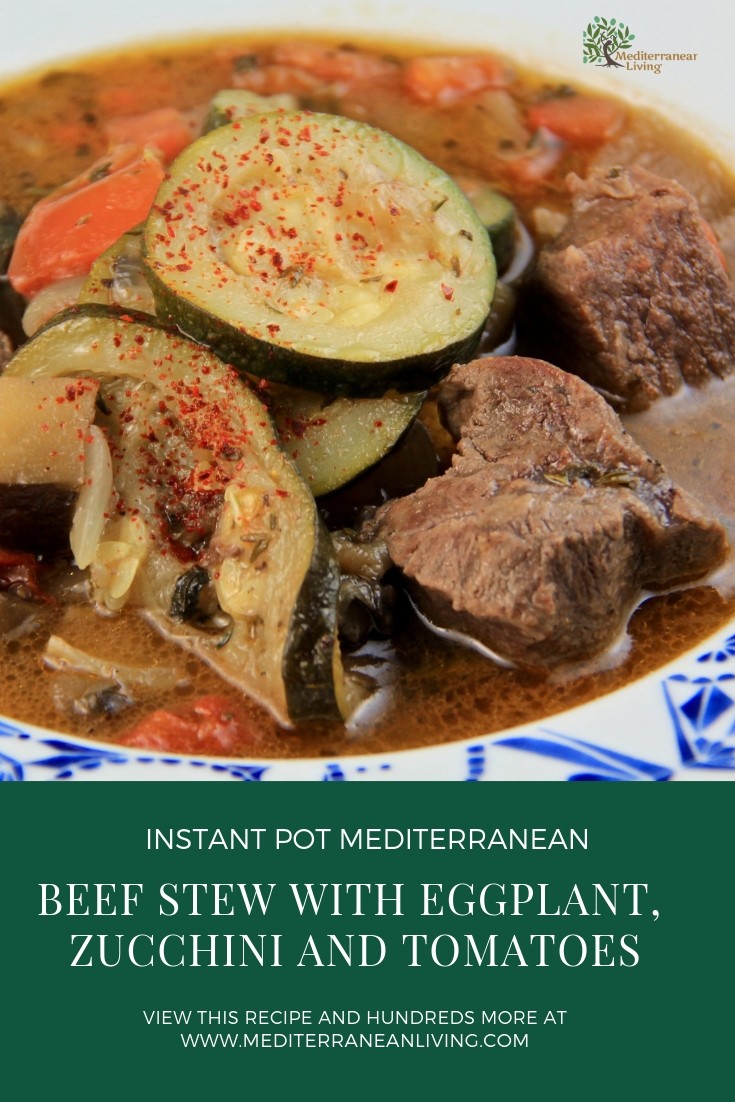 In the original version of this recipe, it needed to simmer on the stovetop for 45 minutes. Now, to get tender delicious beef it only takes 20 minutes in the Instant Pot. The flavor comes out magically the same. The only difference between this beef stew instant pot recipe and the original ingredient-wise is it has a little less extra virgin olive oil. The reason for this is because it comes out a little too oily in the Instant Pot with the normal 5 Tablespoons of oil. The beef has fat in it so that contributes as well.
There are some very Cretan characteristics to this dish that I love. First of all, it's a one-pot meal which is very typical of Cretan food. Extra virgin olive oil, onions, tomatoes, and herbs are the beginning to so many traditional Cretan one-pot meals. Second, it's the specific herbs in this recipe that give it a very Cretan taste. If you have ever been hiking in the mountains in Crete, the gentle mountain breeze brings you scents of thyme and sage mixed with the scent of wildflowers. Along the sides of the path, you can find bush after bush of sage and thyme. I would always stop and just rub a little on my fingers and smell their potent aromas. Because these herbs grow so abundantly in the Cretan mountains, they are dried and used in a plethora of traditional recipes.
Here are the original and slow-cooker versions of this recipe:
Slow-Cooker Beef Stew with Eggplant, Zucchini, and Tomatoes (Greece)
(Original) Beef Stew with Eggplant, Zucchini, and Tomatoes (Greece)
Purchasing an Instant Pot
The Instant Pot we use is the 6 quart version.   It is just right for recipes that serve 4 all the way up to 8 servings.  For us, it seems to be the perfect size. Below is the one we purchased from Amazon.  I highly recommend it!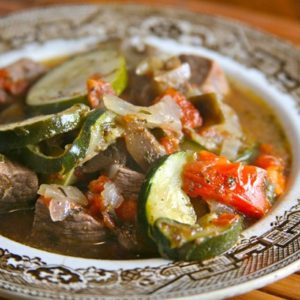 Beef Stew Instant Pot with Eggplant, Zucchini and Tomatoes (Greece)