This is a tart and tangy citrus vinaigrette that goes with the Mediterranean Chickpea Salad. This recipe is extremely simple to make. If you don't have a blender or food processor, you can whisk in the extra virgin olive oil until it's completely incorporated. This is perfect on a simple salad, or even use it as a marinade for grilling.
Citrus ingredients are extremely common in the Mediterranean Diet. Both sour and sweet, citrus fruits contain a number of amazing health benefits and have been used for flavor and medicine for thousands of years. First and foremost, citrus is a significant source of Vitamin C. Just a small grapefruit or the juice of 1 lemon has all the Vitamin C you need in one day! Beyond that, citrus is also high in many other compounds such as magnesium and B vitamins plus containing anti- inflammatory compounds.
In the flavor sphere, citrus is a great enhancer of other flavors. Depending on what kind of citrus fruit you use, you could either be adding sweetness to a dish like in Koula Barydakis's recipe for Orange and Lemon Potatoes or a bit of sour like in our Sizzling Lemon Garlic Shrimp recipe. This vinaigrette is the best of both worlds. Not only do the juices have a good range of flavor, the addition of the zest gives this dressing and extra zip! We hope you enjoy this delicious and traditional dressing.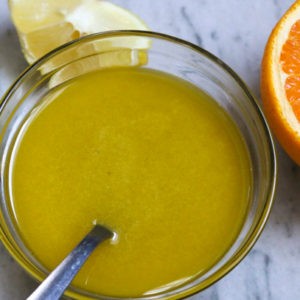 Citrus Vinaigrette
Ingredients
1/8

cup

juice of an orange

1/8

cup

lemon juice

1/2

tsp

orange zest

1/2

tsp

lemon zest

1/4

tsp

salt

1/4

tsp

black pepper

1/2

cup

extra virgin olive oil
Instructions
Combine citrus juice and zest, salt and pepper in a blender. Turn on blender and slowly drizzle in extra virgin olive oil.
Nutrition
Serving:
2
Tbsn
Calories:
163
kcal
Carbohydrates:
1
g
Protein:
0.1
g
Fat:
18
g
Saturated Fat:
2
g
Polyunsaturated Fat:
2
g
Monounsaturated Fat:
13
g
Sodium:
97
mg
Potassium:
17
mg
Fiber:
0.1
g
Sugar:
1
g
Vitamin A:
12
IU
Vitamin C:
5
mg
Calcium:
2
mg
Iron:
0.1
mg