Everyone in Crete has orange and lemon trees in their backyard, front yard and courtyard.  We have fresh oranges for breakfast, between meals or as a dessert after dinner.  This is true for most of the Mediterranean region and why you will find lemons and lemon juice in so many Mediterranean Diet recipes and even oranges where you might not expect them (such as my white bean soup with orange slices or orange cookies which uses both orange and lemon juice).   Sliced lemons are also used for many Mediterranean baked recipes such as this Salmon with yogurt, spinach, lemon and capers recipe or Moroccan tagine with lemons, peppers, and green olives.
Not only was there fresh lemon and oranges in our yard, but we also picked our own olives for the olive oil. We would also pick the fresh herbs and pull the potatoes right out of the ground just before we cooked them.  When we ate orange lemon potatoes as a child they simply couldn't be any more delicious, fresh or nutritious (heart protective, cancer fighting, swimming in anti0xidants).
Even if you are a new cook, I think you will find this recipe easy to make and very satisfying.  It is one of my favorites and I think you will enjoy it as well!
SaveSave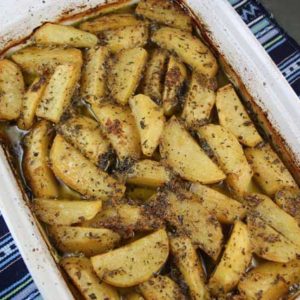 Orange Lemon Potatoes (Island of Crete)