A very traditional Greek Easter lamb recipe that is served Holy Saturday after church, around midnight, is magiritsa. This soup is traditionally made with the intestines of the lamb. I've substituted the intestines with regular lamb meat in this soup. The broth is an extremely delicious avgolemono (egg-lemon) with lots of extra virgin olive oil, dill, and romaine lettuce. This is the first meat dish that is eaten after the 40-day lent, with the spit-roasted lamb coming the next day. This soup reminds me of my grandparents' house because they would often have a soup similar to this with pork instead of lamb, and with big pieces of artichokes. They made that soup throughout the year, and they made magiritsa for Easter. The taste brings me back to visiting them as a kid and them feeding me traditional Greek foods that I was so anxious to eat.  I want to thank Koula for sending this recipe and bringing back so many good memories of my Yia Yia's (Grandmother's) cooking.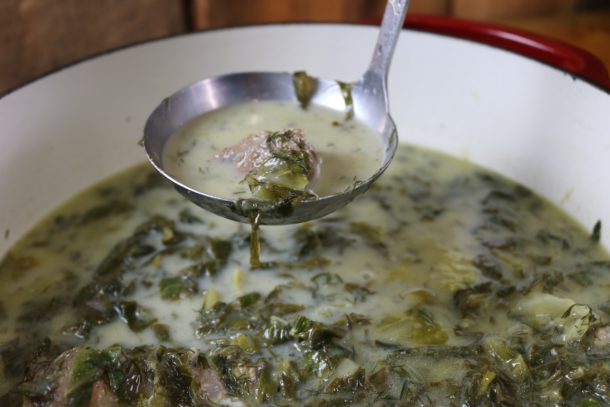 Here are some other lamb recipes to try!
Greek Lamb, Tomato, and Onion Kabobs (Island of Crete)
Lamb Stew With Spinach & Garbanzos
SaveSave
SaveSave
SaveSave
SaveSave
SaveSave
SaveSave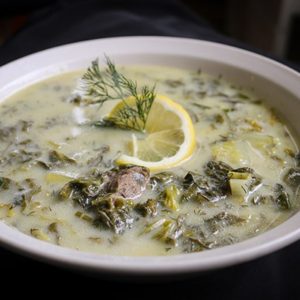 Greek Easter Lamb Soup with Egg Lemon Sauce
Ingredients
1/2

cup

extra virgin olive oil 

2

pounds

lamb, bone in

10

green onions, chopped

5

cups

water

2

bunches

dill, chopped

1

head

romaine lettuce, chopped very thin

salt and pepper, to taste

3

lemon juice

3

eggs
Instructions
Trim the lamb of most of the fat. Cut lamb into bite-sized pieces. If the bone is too thick to cut through, cut all the meat off, but save the bone.

Add olive oil to a large pot on medium heat. Add lamb and bone(s) and saute for 10 minutes, stirring often.

Add green onions and saute for another 3 minutes.

Add 5 cups of water. Bring to a boil and then immediately lower to a simmer. Simmer covered for 30 minutes.

Add lettuce, dill, salt, and pepper. Simmer for one hour.

In a bowl, whisk together eggs and lemon juice.

While whisking, ladle 2 ladlefuls of broth from the soup very slowly into the egg-lemon mixture. Make sure to keep whisking the whole time. You're trying to bring the temperature of the eggs up.

Turn off the stove and remove the pot from the heat. Pour in the egg-lemon sauce and stir the soup immediately.

It is important to not cover the soup, as the eggs may solidify.
Nutrition
Calories:
326
kcal
Carbohydrates:
5
g
Protein:
27
g
Fat:
22
g
Saturated Fat:
5
g
Polyunsaturated Fat:
2
g
Monounsaturated Fat:
13
g
Trans Fat:
1
g
Cholesterol:
136
mg
Sodium:
117
mg
Potassium:
584
mg
Fiber:
2
g
Sugar:
2
g
Vitamin A:
7074
IU
Vitamin C:
11
mg
Calcium:
65
mg
Iron:
4
mg