In the past, the only thing that I didn't enjoy about grilling was how I felt afterwards.  In the old days, when I was a kid, the victuals would always be pretty much the same: Hot dogs and hamburgers on white buns, sugary barbecued baked beans, macaroni salad, lots of varieties of potato chips and dips and of course, gallons of soda.  The salt, fat and sugar abounded and I loved it all.  I would always eat past fullness and ultimately feel tired and groggy afterwards, I would feel kind've gross actually.  Still, I did it over and over again, year after year, because the food tasted so good!  As I grew older, the food remained the same, but the soda magically turned into ice cold beer.  But then I began to try new alternatives to the typical grilling fare and I found that I enjoyed it just as much and I felt much better afterwards.  This Grilled Salmon Salad with Yogurt Dill Dressing is one of those dishes that tastes so good you won't miss the burgers and dogs.
Grilled Salmon with Yogurt Dill Dressing is super easy to make.  There is no marinating needed as the salmon comes out perfect grilled with just a minimum of seasoning.  I begin by firing up  the grill.   Whether its charcoal or gas, you want to have nicely preheated grates to cook the salmon on.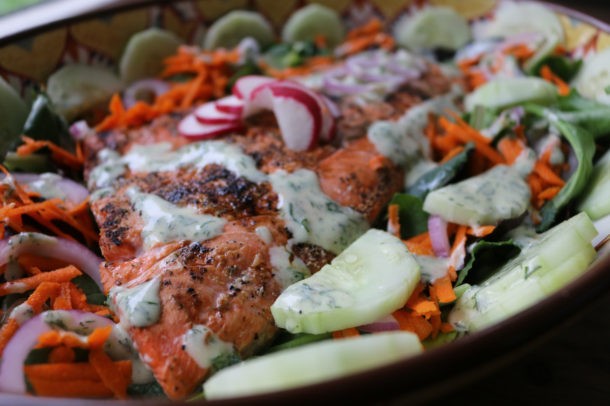 I lay the salmon filet on a cookie sheet and sprinkle salt and pepper on both sides.  Let it sit while you make the dressing and cut the vegetables for the salad which should take about 15 minutes.  Once you have the salad ingredients in a bowl and the dressing made, grill the salmon.  Begin grilling with the skin up.  Cook on that side for about 5 minutes (I cover the grill if the salmon is very thick to help the middle cook).  Then, turn the salmon on the skin side and let it finish cooking until the salmon begins to flake.  I tend to like it more on the well done side, but you can choose how long you want to cook the salmon.  Top the salad vegetables with the warm salmon and then drizzle on the yogurt dressing.  I love this grilled salmon salad the next day as well!
Here are a few of our other grilling recipes on Mediterranean Living:
Armenian Losh Kebab (Grilled Lamb and Beef Burgers)
Grilled Portobello Mushrooms with Garlic Balsamic Marinade
Grilled Marinated Summer Vegetables
Grilled Swordfish with Lemon Parsley Topping
Lebanese Grilled Corn with Cinnamon and Cumin
3 Mediterranean Chicken Marinades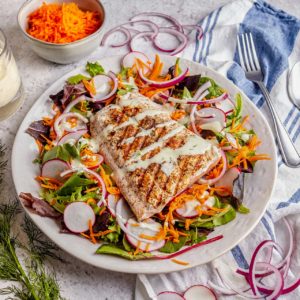 Grilled Salmon Salad with Yogurt Dill Dressing