Briam is an oven-baked dish of fresh vegetables, herbs, olive oil, and an optional feta cheese.  It is one of the most classic dishes of the Mediterranean Diet.  This version was served to us at a seaside taverna on the island of Ikaria, a fiercely self-sufficient and proud island that has the highest rate of people who live to be over 100.  As my wife Christine and I sat enjoying the immense view of the Aegean Sea, we were treated to some of the best briam I had ever tasted.  After speaking to the woman who makes this satisfying dish, I quickly realized 3 mistakes I had made when preparing this dish at home:
I was cutting all the vegetables too thin.
I wasn't baking the dish long enough.
I wasn't using enough dill.
SaveSave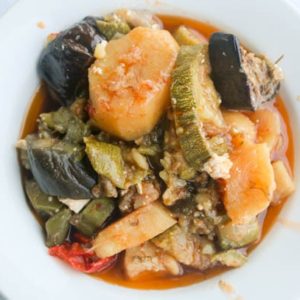 Briam - Baked Vegetables in Olive Oil (Island of Ikaria-Greece)