Last week I created a Slow Cooker Moroccan Chickpea Stew with Couscous, which was really easy and delicious. I wanted to try this recipe in an Instant Pot because stews often work well in both a slow cooker and an Instant Pot. The only thing I normally cut back on in the Instant Pot is how much liquid I add. A slow cooker recipe usually needs more liquid than an Instant Pot because the ingredients have to be covered in liquid to fully cook. Also, some of the liquid evaporates in the cooking process.
I made some changes to this recipe besides the liquid amounts. First, I wanted to use canned chickpeas for this recipe to see the difference between the dried and canned. I don't mind soaking dried chickpeas overnight, but it's an extra step that you don't always feel like worrying about. Next, I didn't have fresh cilantro available this time, but I had fresh mint. I know mint is used in Moroccan cooking so I was pretty confident it would work. If you don't like mint, cilantro works perfectly.
Another minor difference is that I used smoked paprika instead of regular paprika because I love the smokey flavor it imparts on any dish. The last thing I changed was another matter of availability. I didn't have any couscous this time, so instead, I used one of my favorite whole grains, bulgur wheat. If you've never tried bulgur wheat before, it's really healthy for you and takes on other flavors really well. I usually make bulgur wheat to serve with Instant Pot Fasolakia (Green Beans and Potatoes in Olive Oil) because the tomato sauce, extra virgin olive oil, and herbs mix amazingly with the bulgur wheat. With this Moroccan chickpea stew, there's also tomato sauce, extra virgin olive oil, and herbs that I thought would pair with the bulgur wheat. I'd love to know how what you think about this recipe, so please rate it and leave a comment below! Enjoy!
Check out some more of our most popular Instant Pot recipes here:
Instant Pot Moroccan Chicken Tagine with Green Olives, Peppers, and Lemon
Instant Pot Black-Eyed Peas with Fresh Dill and Parsley
7 Mediterranean Instant Pot Recipes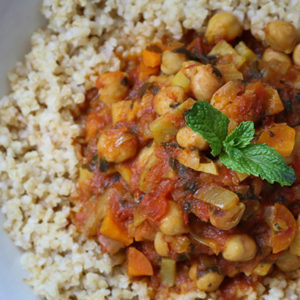 Instant Pot Moroccan Chickpea Stew with Bulgur Wheat Pilaf
Ingredients
2

small can

chickpeas, liquid from one reserved

1/2

cup

extra virgin olive oil 

2

onions, diced

3

cloves

garlic, minced

1/2

bunch

fresh parsley, washed and chopped

1/2

bunch

fresh mint, washed and chopped

2

carrots, diced

2

medium