This recipe, by Koula Barydakis, has been on Mediterranean Living since 2013. It's an absolute go-to recipe for us. Five years have gone by and we got our hands on an Instant Pot Cooker. Now this traditional recipe from Crete, that was already super simple to make, is even simpler! There was definitely some trial and error on getting the black-eyed peas to cook all the way through without being undercooked, or overcooked and mushy. We used fresh, dry black eyed peas and didn't soak them overnight.  It was also a challenge to get the right amount of liquid but we've got it! If you don't have an Instant Pot, the original recipe is available here with a video to go along with it!  Give this instant pot black eyed peas recipes a try.  I think it will be a new favorite!
Tips on making Instant Pot Black Eyed Peas and Herbs:
Don't cut back on the olive oil! This dish needs a full cup of extra virgin olive oil or it won't taste the same!
Use fresh herbs, not dried.
Follow the recipe instructions carefully in order to use the Instant Pot correctly.
Black eyed peas are actually beans and, like other beans, they are high in protein and fiber.  Black eyed peas, along with fresh dill and parsley are all known to help with digestion.  If you are having any issues with constipation then this is definitely the recipe for you!  If you want to turn this recipe into a 100% anti-inflammatory recipe, I omit the tomato paste and add 2 Tablespoons blackstrap molasses.  Finally, if you are on a low sodium diet, this recipe is perfect as you can decide how much salt to add and you don't need to add a lot because of the high flavor profile that comes from the orange slices, herbs and olive oil.  Enjoy!
Check out some of our other instant pot recipes below!
Horta (Greens) and Potatoes in the Instant Pot
Instant Pot Green Beans with Pork and Potatoes
Moroccan Chicken Tagine with Green Olives, Peppers and Lemon
Instant Pot Fasolakia (Green Beans and Potatoes in Olive Oil)
Purchasing an Instant Pot
The Instant Pot we use is the 6 quart version.   It is just right for recipes that serve 4 all the way up to 8 servings.  For us, it seems to be the perfect size. Below is the one we purchased from Amazon.  I highly recommend it!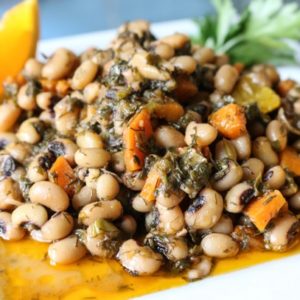 Instant Pot Black Eyed Peas with Fresh Dill and Parsley