If you love artichokes and olives, you'll love this sauce! This homemade Instant Pot Sauce with Artichokes and Olives takes only 10 minutes to cook yet tastes like an Italian grandmother has been simmering the sauce all day.
I always have cans of crushed tomatoes and tomato paste in my cupboard. These are the base for this sauce. I love a lot of extra virgin olive oil in my sauces so I'm adding a generous glug. Olive oil, onions, and garlic are the start to any good recipe. You can't have olive oil without olives, so I'm adding a lot of those too!
Order our delicious Cretan extra virgin olive oil shipped priority mail right to your door!
For the absolute ease of it, I'm using canned artichoke hearts for this recipe. While I prefer the taste and texture of fresh or even frozen artichokes, I'm going for pure convenience here. Whenever I make an Instant Pot recipe, I try to incorporate some shortcut ingredients to save time. If you have whole artichoke hearts, cut them in half. You want them to be bite-sized pieces. They will break down a little bit in the Instant Pot too.
Recipes like this are why I love the Instant Pot so much. It really gets you to use up all the food sitting in your cupboard. It can cook dried beans without soaking them. It can cook rice and grains with ease. Any kind of canned or bottled sauce can be the start of a recipe. In the colder months, I like to make a lot of recipes that use these "cupboard foods" and the Instant Pot just makes it so much quicker and easier.
One great way to use up this sauce up for leftovers is for a Mediterranean diet breakfast recipe. Take a couple spoonfuls of the sauce and add it to a frying pan. Add a splash of water. Bring it to a boil and then drop 3 eggs into it. Turn the heat to medium low and cover the frying pan. In 5 minutes the eggs will be perfectly poached in the tomato sauce. This is similar to shakshuka.
This is the first Instant pot tomato sauce recipe on Mediterranean Living. There is so much potential with what one can do with a tomato sauce in the Instant Pot, which means I will be creating more in the future. Until then, if you are looking for more Instant Pot Mediterranean recipes, check these out!  Please rate and review below!
Instant Pot Beans and Greens (15-Minute Meal)
Instant Pot – Moroccan Chicken Tagine with Green Olives, Peppers and Lemon
7 Mediterranean Instant Pot Recipes
Purchasing an Instant Pot
The Instant Pot we use is the 6 quart version.   It is just right for recipes that serve 4 all the way up to 8 servings.  For us, it seems to be the perfect size. Below is the one we purchased from Amazon.  I highly recommend it!
Order Instant Pot from Amazon!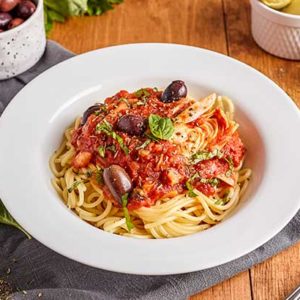 Instant Pot Tomato Sauce with Artichokes and Olives