Traditional Italian frittata is easy to prepare and delicious. Favored for its flexibility, it can be eaten for breakfast, lunch, dinner, or anytime! Serve up as an appetizer or as a side at mealtime.
Although in Italy you may not commonly see a Frittata on a restaurant menu, this quintessentially Italian dish is prepared in many homes. Mothers and fathers alike prepare mouthwatering Frittatas from leftovers. You can add whatever pleases your palate to your Frittata. In some parts of Italy, before serving lunch and dinner a portion of the meal is put aside for this 'left-over delight'. A Frittata is also the perfect way to convince the kids to try new vegetables.
And remember the ultimate leftover is the Frittata itself; it's great the next day to reheated or eaten cold in a sandwich!
Not only is Frittata delicious, it is also quite the healthy food. Packed with Mediterranean Superfoods such as eggs and vegetables, it's a great way to get more protein and nutrients into your diet. Also, you can make vegetarian or meat versions and it's gluten free.
I love to serve frittata with a simple side salad (lettuce, cucumbers, cherry tomatoes and shredded carrots) and a honey dijon vinaigrette dressing (recipe here).
Photo Credit: Christine Dutton
Check out more Mediterranean Diet breakfast recipes here!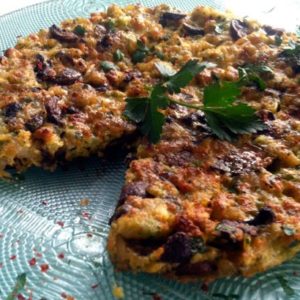 Italian Frittata
Ingredients
Olive oil

6

eggs

2

cups

Vegetables (such as boiled or roasted potatoes, cauliflower, zucchini, wild mushroom, asparagus, eggplant, peppers, artichoke or chopped tomatoes)

2

tbsp.

chopped fresh herbs such as parsley, basil and/or oregano

1/4

cup

Asiago cheese or mozzarella cheese

1/4

cup

Parmesan cheese

Salt and Ground black pepper to taste
Instructions
Generously cover a 12" pan with olive oil, heat up the oil and add vegetables, sautéing until they are soft.

Meanwhile, whisk together eggs then add salt, ground black pepper, parsley, basil or oregano. Stir in cheese to the mixture.

Using a ladle, spoon egg mixture on top of the veggies and spread the mixture to ensure that it is evenly distributed.

Cooking on medium heat, stir briefly in the pan, then using a rubber spatula, frequently & gently lift the edge of the egg mix so that it doesn't burn.

Using a fork, move the center gently so the liquid seeps to the bottom and gets cooked as well.

When the frittata is firm and the bottom is browned (the top will still be somewhat runny), remove the stovetop.

Set your broiler to low and place the pan into a preheated broiler for 2-5 minutes.

Let it rest for 5 minutes & then serve. Fritatta is lovely warm and at room temperature.

The Traditional Flip over (If You're Brave) Once the bottom of the frittata is cooked; The traditional method requires you to flip the frittata over, quickly and carefully. Use a flat dish, larger than the pan; quickly turn the pan upside-down onto the plate. Immediately slide the golden side up back unto the pan and finish cooking.
Nutrition
Calories:
98
kcal
Carbohydrates:
7
g
Protein:
7
g
Fat:
5
g
Saturated Fat:
2
g
Trans Fat:
1
g
Cholesterol:
127
mg
Sodium:
152
mg
Potassium:
196
mg
Fiber:
2
g
Sugar:
2
g
Vitamin A:
538
IU
Vitamin C:
11
mg
Calcium:
110
mg
Iron:
1
mg