Traditional Italian frittata is easy to prepare and delicious. Favored for its flexibility, it can be eaten for breakfast, lunch, dinner, or anytime! Serve up as an appetizer or as a side at mealtime.
Although in Italy you may not commonly see a Frittata on a restaurant menu, this quintessentially Italian dish is prepared in many homes. Mothers and fathers alike prepare mouthwatering Frittatas from leftovers. You can add whatever pleases your palate to your Frittata. In some parts of Italy, before serving lunch and dinner a portion of the meal is put aside for this 'left-over delight'. A Frittata is also the perfect way to convince the kids to try new vegetables.
And remember the ultimate leftover is the Frittata itself; it's great the next day to reheated or eaten cold in a sandwich!
Not only is Frittata delicious, it is also quite the healthy food. Packed with Mediterranean Superfoods such as eggs and vegetables, it's a great way to get more protein and nutrients into your diet. Also, you can make vegetarian or meat versions and it's gluten free.
I love to serve frittata with a simple side salad (lettuce, cucumbers, cherry tomatoes and shredded carrots) and a honey dijon vinaigrette dressing (recipe here).
Photo Credit: Christine Dutton
Check out more Mediterranean Diet breakfast recipes here!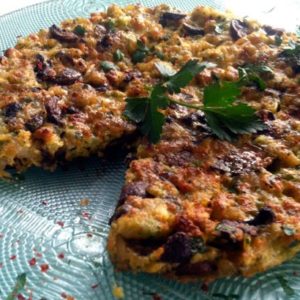 Italian Frittata