Most people think of paella as a dish with seafood and sausage, but one of the traditional Mediterranean Diet recipes of Valencia is paella de verduras or vegetable vegan paella.  This paella recipe has over 20 ingredients in it, but don't let that scare you!  I think you will find that most of the ingredients are in your pantry or are easy to come by at any supermarket.  And don't worry if you don't have saffron (oh dear!), it will still taste amazing with or without it!  The saffron I used was only $3.oo and was enough for at least 10 paellas!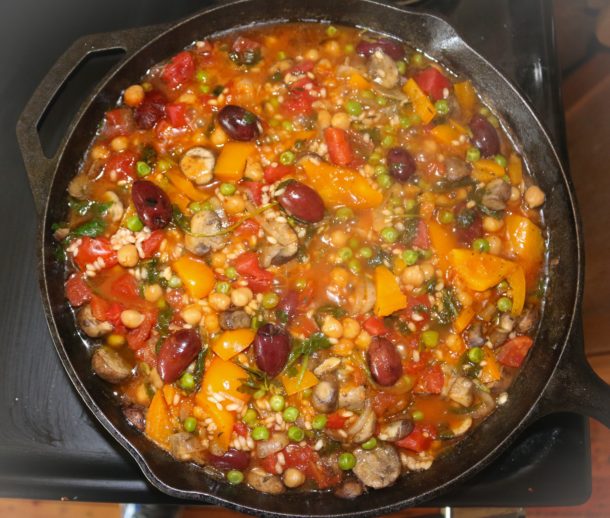 There are only a few techniques you may not have tried before that are important in making this dish.
 Toasting the saffron.  Super simple!  Add the strands of saffron to a small piece of aluminum foil.  Fold it so that it becomes a small packet.  Place on a hot skillet for about a minute.  Remove from the heat and then open the packet.  That's it!  Toasted saffron!
"Burning the bottom" – Once all the ingredients have been added and the mixture is boiling, you will stir everything until they are well mixed.  Then turn the heat down to a strong simmer and DON'T STIR AGAIN!  The magic of a good paella is the crusty bottom.  You don't want it to be horribly burnt, but a little burnt adds a blackened flavor that makes the dish traditional.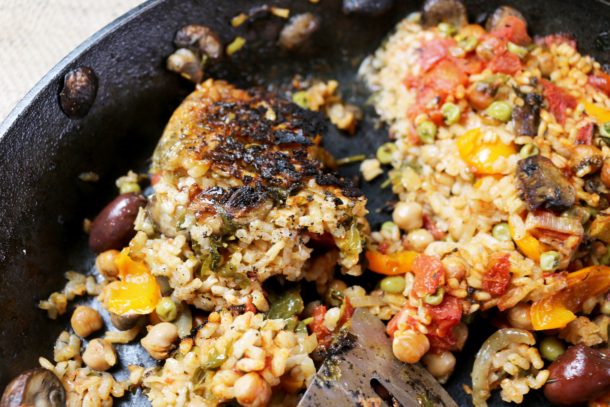 The rest of the recipe is totally straight forward and you will have a delectable dish in an hour.  I find that this recipe is enough on its own so you don't need to have a lot with it.  One of the traditional paella ingredients not in this paella are artichokes.  Marinated artichokes are one of the sides I would recommend.  A salad with Dijon vinaigrette will only add to the  flavors of the paella.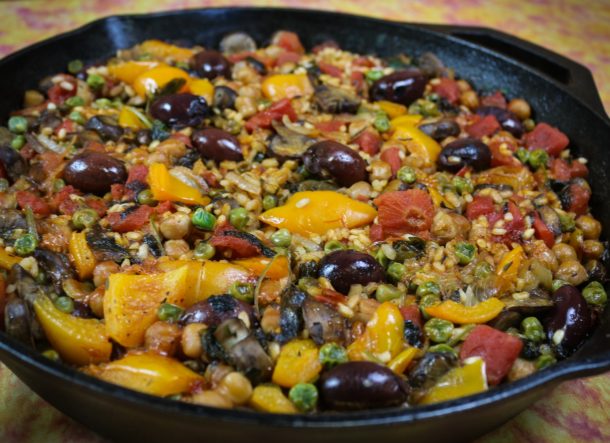 SaveSave
SaveSave
SaveSave
SaveSave
SaveSave
SaveSave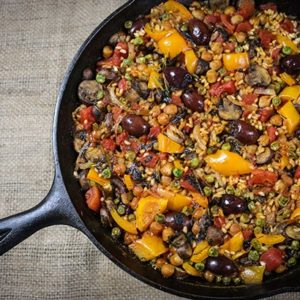 Kalamata Olive and Chickpea Paella (Vegan Mediterranean - Paella de Verduras)