A modified Mediterranean Diet meal plan has been shown to help people lose weight and most importantly, to keep the weight off.  I personally have lost 40 pounds eating the Mediterranean Diet and have been able to keep the weight off for 2 years.  The trick, for me, has been losing the weight slowly and only having to modify my diet slightly.  When I want to lose weight, I eat a modified Mediterranean diet, which for me, means eating gluten and sugar free.  This, along with exercising,  eating only fruit after dinner and watching my portion sizes will do the trick.  The best part is that I know this is only temporary while I lose the weight.  I can easily maintain my weight and eat gluten and some sugar.  During weight loss I still eat everything else Mediterranean including lots of olive oil, fruits and vegetables, beans, nuts, seeds, some meat and non-glutenous whole grains such as rice, quinoa, corn, millet and oats.  The food is delicious and losing weight is less of a struggle and more of a culinary journey.
Below is a collection of Mediterranean Diet recipes that are helpful for weight loss.  If you eat a true Mediterranean diet you can still lose weight even if many of your calories are coming from extra virgin olive oil. Olive oil will help fill you up so you are less likely to crave processed foods and sugars.
What you will find with these easy recipes, is that Mediterranean food is so delicious and filling, you won't feel like you're on a diet.
For more info on losing weight on the Mediterranean Diet check out our article and podcast: How to Lose Weight on the Mediterranean Diet.
Breakfast
Maple Almond Granola with Coconut
Start your morning off right with this delicious, easy & healthy Granola recipe. This Mediterranean Diet breakfast recipe uses a short list of whole foods and has just the right level of sweetness. As a plus, this recipe is also gluten free.
Recipe Here! Maple Almond Granola with Coconut
Spinach and Mushroom Omelet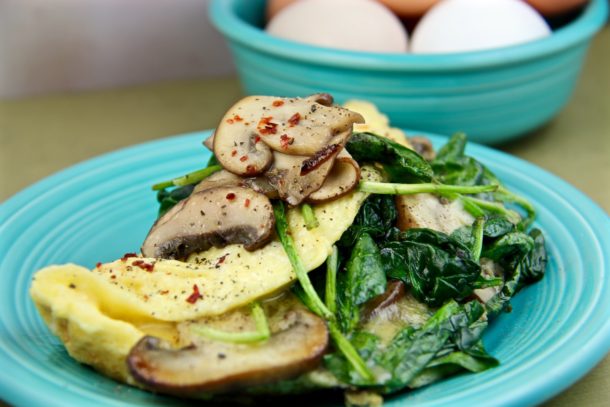 This is an easy Mediterranean breakfast recipe that is filling but great for weight loss. Spinach and mushrooms are a hearty combo. Getting a serving of dark greens every day is important, and it's so easy to do by putting spinach in your omelet.
Recipe Here! Spinach and Mushroom Omelet
Lunch
Lebanese Hummus
For a healthy lunch, I love putting this hummus into pita bread with my favorite fresh vegetables. I also add some pickled vegetables like banana peppers, pickles, and pickled radish for that vinegary flavor.
Recipe Here! Lebanese Hummus
Lentil Soup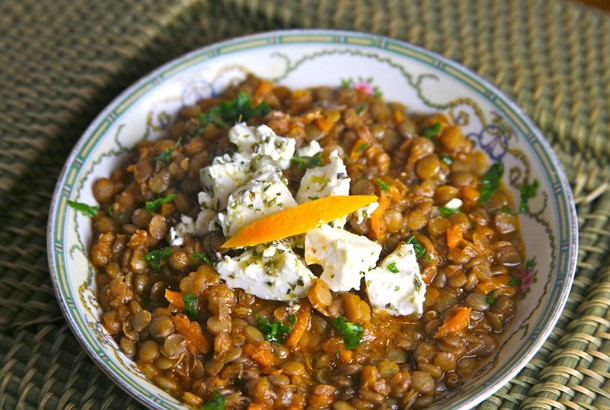 Lentil soup is an extremely popular soup in Greece. People eat it all the time because it's delicious, cheap, and filling. Greeks grow up eating this soup as a main dish. I like to squeeze some fresh lemon and crack fresh black pepper on while I'm eating it.
Recipe Here! Lentil Soup
Dinner
Mediterranean Baked Cod
This cod is so flavorful, you won't feel like you're eating a weight loss recipe! It's also fun to make because you make individual parchment paper packets that seal in all the moisture.
Recipe Here! Mediterranean Baked Cod
Eggplant Parmesan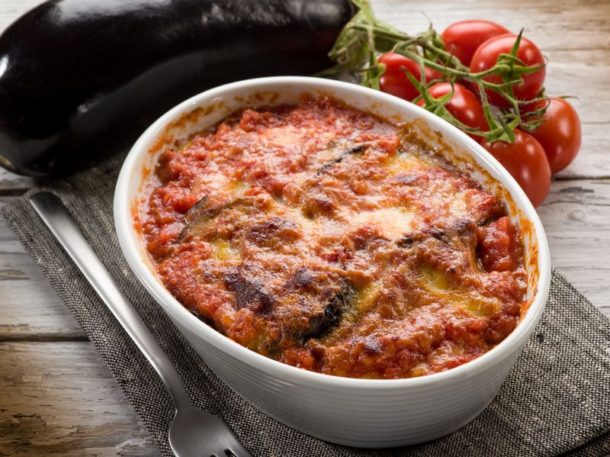 Most eggplant parmesan recipes would not make it onto a weight loss list, because of an excess of cheese and bread crumbs, but this one makes the cut.  It is also gluten free!
Recipe Here! Eggplant Parmesan
SaveSave
SaveSave