I admit it, I have been late to the whole "bowl" thing.  I have watched others making them for a few years now and wasn't sure what the draw was.  But then I tried this Mediterranean Bowl with hummus and Feta and I was an instant convert.  Lunch in a bowl is easy, colorful and full of wonderful complementary flavors.  It is also nourishing, packed with nutrients and is perfect if you are trying to eat a healthier, Mediterranean Diet.
What I love about this bowl is the flavor profile. The mild nuttiness of the quinoa is a solid foundation for the salty olives and feta cheese. The feta also has a slight tanginess, which goes nicely with the lemony garlic flavors in the Lebanese hummus and Greek dressing. And then, adding some crunch and slight touch of sweetness, we have fresh and delicious tomato and cucumber slices.
When serving this Mediterranean bowl with hummus and feta, I like to make a small indent in the top of the hummus with a spoon and pour in about a teaspoon of extra virgin olive oil.  Then, I sprinkle smoked paprika over the top for a subtle sweet and smoky flavor. This Lebanese hummus recipe is so tasty and, on top of that, it's fairy inexpensive and easy to make.
I usually make a few cups of quinoa and a full recipe of hummus and then I can use them for this bowl and other recipes throughout the week.  Cooked quinoa and hummus last at least a week in the fridge so they are perfect for prepping ahead.
Want to create your own Mediterranean Bowl?
Here are some other recipes that would be perfect ingredients for your own Mediterranean Bowl: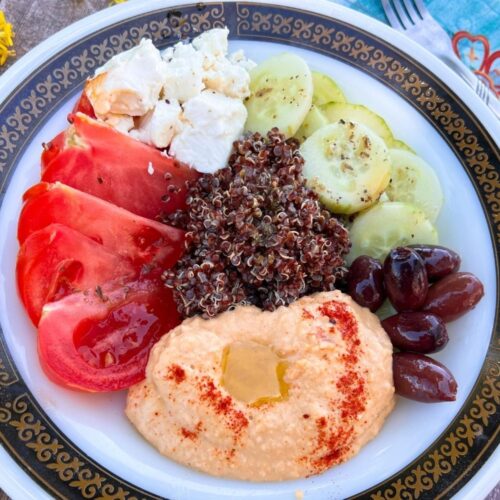 Mediterranean Bowl with Hummus and Feta
Ingredients
1/2

cup

cooked quinoa

1

oz

feta cheese

1/2

tomato, sliced

1/2

cucumber, sliced

6

kalamata olives

3/4

cup

Lebanese Hummus
Instructions
Add cooked quinoa, feta, tomato, cucumber, olives and a scoop of lebanese hummus to a bowl.

Drizzle Greek Dressing over the bowl and enjoy!
Nutrition
Calories:
555
kcal
Carbohydrates:
32
g
Protein:
12
g
Fat:
45
g
Saturated Fat:
9
g
Polyunsaturated Fat:
7
g
Monounsaturated Fat:
27
g
Trans Fat:
1
g
Cholesterol:
25
mg
Sodium:
985
mg
Potassium:
449
mg
Fiber:
6
g
Sugar:
5
g
Vitamin A:
893
IU
Vitamin C:
24
mg
Calcium:
209
mg
Iron:
4
mg