A tagine is a North African stew of spiced meat and vegetables prepared by slow cooking in a shallow earthernware cooking dish with a tall, conical lid, which is also called a tagine.  Tagine dishes are famous for slow cooked tender meat, chicken or fish and flavorful vegetables.  No worries if you don't own a tagine because this Moroccan Chicken Tagine recipe comes out fabulous in a Dutch oven or crockpot.
I start early in the morning, but you don't have to
When I make this Moroccan chicken tagine recipe, I start early in the morning by going to the market to get fresh ingredients.  I make this dish in a traditional Tagine and begin by cutting the onions, mincing the garlic and putting them in a preheated tagine with olive oil.  If you are using a Dutch oven, most of the steps are very similar.  The crockpot version is even easier because you just add everything and set the crockpot on high for 5 hours.
The next step is to layer the rest of the ingredients.  The layering makes for a beautiful presentation when the cooking is done.  The final step is covering the chicken and vegetables with the herb mixture.  Then it is time to slow cook!
Tagine is served hot and stays in the cooking dish. You can enjoy it with bread and if you like, in the traditional way, eating it by hand. But be careful not to burn your hands or tongue! 
Enjoy!
A few more of our favorite Moroccan recipes:
Harcha (Moroccan Semolina Biscuits)
Zaalouk (Moroccan Eggplant and Pepper Salad)
Moroccan Harira (Lentil, Chickpea and Tomato Soup)
How to Cook a Moroccan Tagine without a Tagine Dish
And just in case you want to buy a traditional tagine:
Finding the Best Moroccan Tagine Pot for You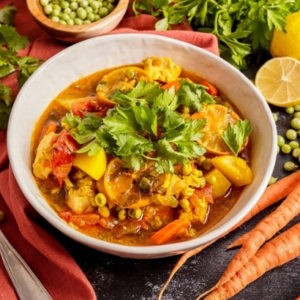 Moroccan Chicken Tagine (Dutch oven or Crock Pot)
Ingredients
Tagine ingredients
2

onions, chopped

3

cloves

garlic, chopped

2

tbsp

extra virgin olive oil

1

pound

chicken breasts, cut into bite-sized pieces

3

big

potatoes, cut into steak fry sized pieces

2

medium

carrots, cut into large (2") pieces

1

cup

fresh or frozen peas

1

large

tomato, cut into 6-8 wedges

3

slices

lemon, with the skin

1/2

bunch

parsley, stems removed and chopped

1/4

bunch

cilantro, stems removed and chopped
Herb Blend
1.5

cups

water

2

tbsp

extra virgin olive o