Authentic Moroccan Fish Stew
Nothing feels more authentically Mediterranean then sitting in a restaurant overlooking the Mediterranean Sea while enjoying a fish stew from fish that was caught that morning right next to the restaurant.  The warm stew is often served with wine, salad and other vegetables cooked in extra virgin olive oil.  This Moroccan fish stew with fresh herbs is one of my favorite recipes from Mahjouba Ezzamoury, one of our Moroccan recipe contributors.  Although this recipe is traditionally made in a Moroccan tagine, we have adapted it so you can make it with any soup pot or Dutch oven.  Still, we wanted to include Mahjouba's description of how she makes this stew in Morocco.
Mahjouba's Description of Making the Stew
I enjoy making this recipe for fish stew with fresh herbs (fish tagine) on Tuesdays and Thursdays because those are the days that I can find freshly delivered fish from the ocean in Fez. 
First, I head down to the markets or souks as they are called in Morocco and select the fish for my stew. I prefer mackerel, which is a popular white fish here and readily available in fish markets around the world. Next, I bring my freshly bought fish home with me and cut it into medium sized pieces so that it's ready to be cooked. 
Then, I cut the onions and potatoes into rounds and the peppers in relatively thin slices.
Next, I mix all the fresh herbs and spices (including the greens, lemon juice and garlic) together and then divide them into two parts – one to marinade the fish with and the other for later use. Later, I add 3 tbsps olive oil and half a glass of water to the half I set aside and pour it over the fish stew. 
Finally, I am ready to fill up the Tagine, which is the traditional pot used for Moroccan stews (another pot with a lid such as a Dutch Oven will also work). I add 2 tbsps of olive oil and wait until it's hot. Then, I layer the onions, potatoes and marinated fish in that order. The olives then go on top and the sauce is added over the contents of the pot. I let the stew simmer on medium to low heat for 1 – 1.5 hours until everything is cooked. 
Just check from time to time and enjoy!
More of our favorite authentic Moroccan recipes:
https://www.mediterraneanliving.com/recipe-items/harcha-moroccan-semolina-biscuits/
https://www.mediterraneanliving.com/recipe-items/moroccan-harira-lentil-chickpea-and-tomato-soup/
https://www.mediterraneanliving.com/recipe-items/zaalouk-moroccan-eggplant-and-pepper-salad/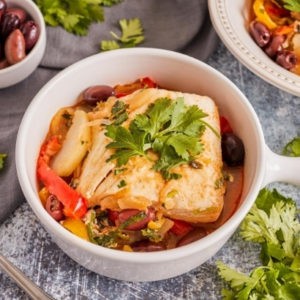 Moroccan Fish Stew with Fresh Herbs
Ingredients
4

tbsp

extra virgin olive oil

1

onion, cut into thin rounds

2

peppers, cut into small strips

4

cloves

garlic

1

lemon juice

1

cup

water

3

medium sized

potatoes, peeled and cut into thin rounds

20

pitted kalamata olives

1

cup

fresh parsley, chopped

1/2

cup

fresh cilantro, chopped

1

tbsp

paprika powder

1

pinch

cayenne or other hot pepper

1

tbsp

cumin

1

tsp

salt

1

pound

mackerel or other white fish without bones
Instructions
In a Dutch oven or thick bottomed pot with a cover, sauté onions, garlic and peppers in 4 Tablespoons olive oil for a few minutes until soft.

Add potatoes, lemon juice and 1 cup of water. Bring to a boil and then simmer for about 5 minutes, stirring occasionally.

Add olives, spices, parsley and cilantro. Cover and simmer for 10 minutes.

Add fish and cook covered on simmer, stirring occasionally, until potatoes are soft and fish is done (about 20 minutes).
Nutrition
Calories:
2002
kcal
Carbohydrates:
153
g
Protein:
113
g
Fat:
108
g
Saturated Fat:
20
g
Polyunsaturated Fat:
17
g
Monounsaturated Fat:
63