These delightful Orange Sesame Cookies are baked with olive oil which makes them moist on the inside and slightly crispy on the outside.  Are they a Mediterranean Diet breakfast recipe or a dessert?  Well, they are both.  Perfect when you are on the run in the morning, grab a few cookies and a cup of coffee on your way to work, or enjoy them after dinner with some herbal tea.
It is best to make these with an electric mixer (although I have used a hand egg beater) as they require 12 minutes of mixing.  These cookies are great fresh, but also freeze well and don't take long to defrost (yes, I have eaten them right out of the freezer as I couldn't even wait a couple of minutes for them to defrost).
Check out more delicious Mediterranean Diet breakfast recipes here!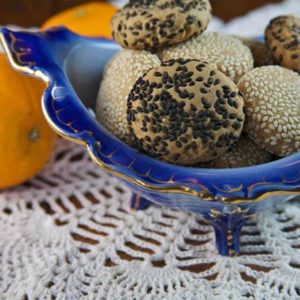 Orange Sesame Cookies Baked with Olive Oil (Crete)