Mediterranean Diet Recipes in 30 minutes!
Skillet dishes are one of my favorite ways to pull together a meal in half an hour or less.  This pasta with Mediterranean salmon cooked in the skillet is super fast because fish doesn't take long to cook.  As long as you start cooking the pasta at the beginning of your prep you can get this on the table in no time at all.  I recommend getting the ocean raised salmon as it is higher in omega-3 fats and personally I think it tastes better.  You also want to use a really fresh, high-quality extra virgin olive oil for this dish.  The fresher the olive oil, the healthier it is and the peppery burn from a fresh oil is a very potent anti-inflammatory.  Other anti-inflammatories in this dish?  Parsley, mushrooms, onion, garlic, and chili flakes.  Wowzers!  Tasty and nutritious!  If you are gluten-free, this works very well with Asian rice noodles as well.
If you are looking for boneless salmon (always more pleasurable in my opinion), ask for the tail part of the salmon.  Smaller bones will actually melt as you cook them.  As for wine, I like to pair Chardonnay with this salmon and pasta dish.
Fish leftovers are not my favorite, but this is one of those rare fish dishes that taste great the second day and can even be served as a cold pasta salad.  You can eat it as is for leftovers or add a dab of Greek yogurt and some balsamic to delight your taste buds even more!
Because this is a more complex flavored dish I usually serve it with a simple vegetable like Lemony Asparagus with Garlic or Sautéed Swiss Chard with Garlic.  I would start off with a simple salad (lettuce, cucumbers and tomatoes) with a Dijon Vinaigrette or our Traditional Greek Restaurant Style Salad Dressing.
SaveSave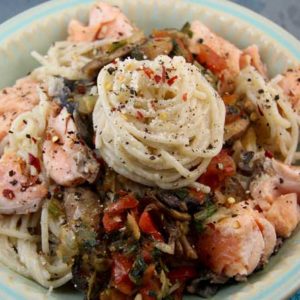 Pasta with Skillet Salmon, Mushrooms and Parsley (Greek Island of Crete)