This Italian Baked Polenta recipe is a delicious fusion of polenta, cheese, tomato sauce and vegetables.  It is the perfect Mediterranean Diet recipe that is both gluten-free and vegetarian and an amazing comfort food to boot.  I love the deep, rich and herby flavors of this dish and the use of both grated parmesan and fresh mozzarella. This is a perfect option instead of omelets or quiches for brunches and lunches. Also, it tastes a lot like pizza!
Don't let the long ingredient list fool you, this is an easy recipe to make.  Many of the ingredients are just herbs and spices to give it extra flavor.  It really comes down to 4 steps to make this incredibly delicious dish: 1) make the polenta, 2) sauté the vegetables, 3) layer the casserole dish with polenta, veggies and cheese and 4) bake.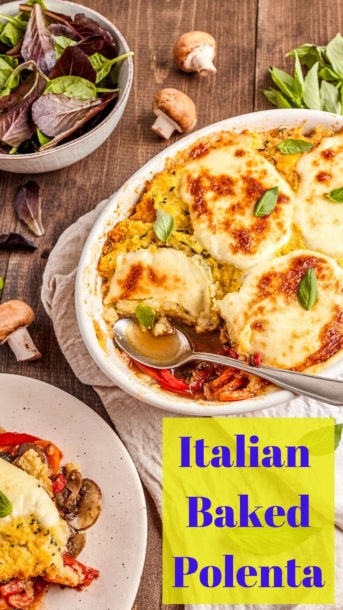 You can easily halve this recipe, but I recommend the full recipe to enjoy leftovers!
Because this is a rich, complex dish it can be eaten on it's own or with a simple cucumber and tomato salad topped with oregano, lemon juice and olive oil.  This dish would go nicely with a red or white wine.  A light dessert of fruit or a fruit sorbet would be a perfect ending to a filling meal.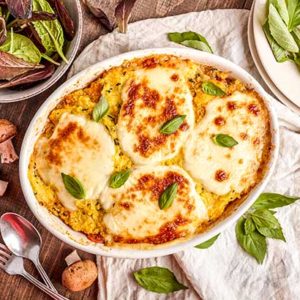 Italian Baked Polenta
Ingredients
2

cups

polenta, raw

4

cups

vegetable or chicken broth

4

cups

soy milk or regular milk

1

cup

parmesan cheese

1/2

cup

fresh, chopped basil

1

tbsp.

extra virgin olive oil

1

yellow onion, sliced thin

3

carrots, sliced thin

6

cloves

garlic, chopped

1

sweet pepper, cut into strips

10

ounces

package bela mushrooms, sliced

1

bunch

swiss chard, stems removed, washed, drained, and chopped

1/4

tsp

salt

1

tsp

dried oregano

1

tsp

dried basil

1

large can

diced tomatoes flavored with oregano, basil

1/2