Not too long ago, Bill Bradley R.D. made this recipe in a regular pot on the stove. It was such a delicious recipe, we even brought it to a catering event for the first time and everyone loved it. There's something about these flavors that just work so well together. There is so much flavor in the broth because the vegetables are sauteed in the sausage drippings and the olive oil. When all of these flavors combine with the chicken broth it creates an extremely flavorful broth. It was such a simple yet flavorful soup recipe, I thought it could work perfectly in the Instant Pot.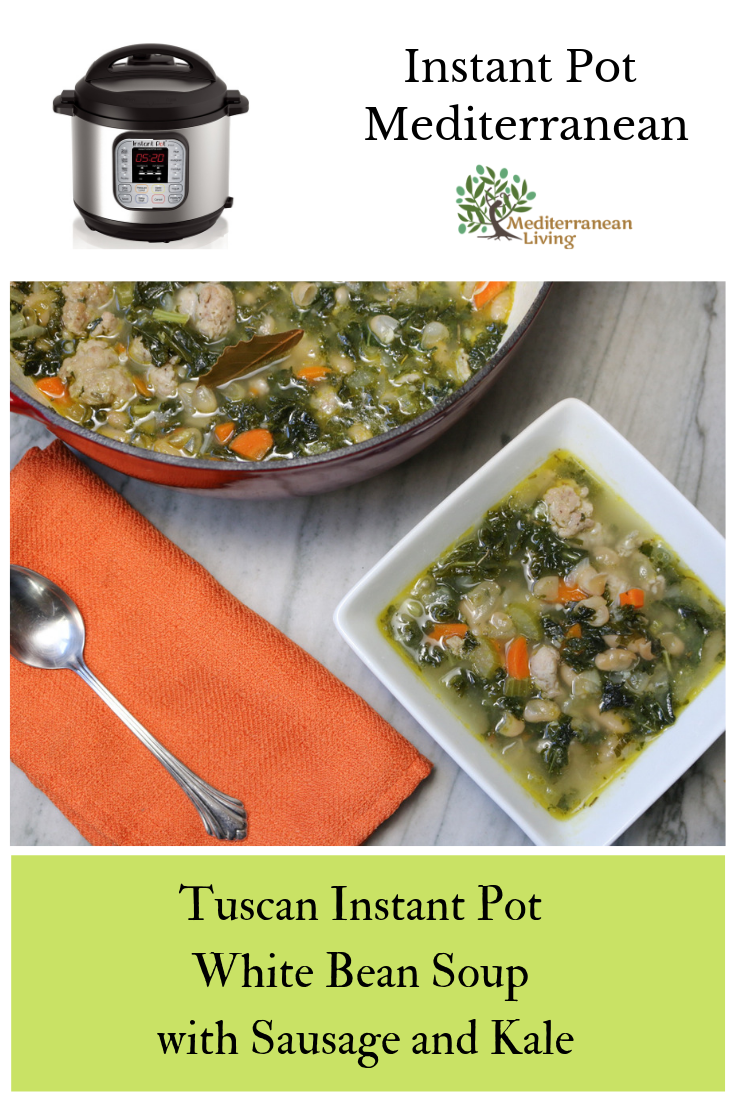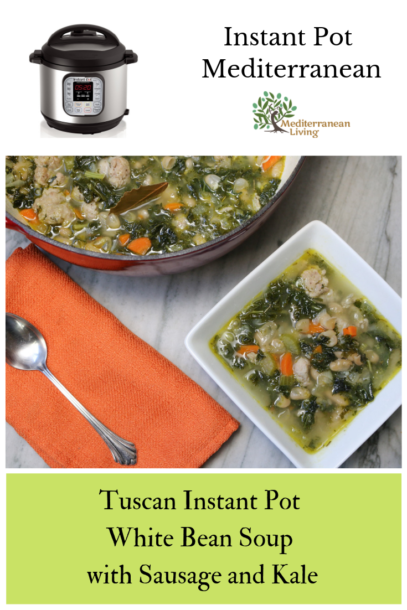 Sometimes, when recreating a recipe for the Instant Pot, the flavor isn't exactly the same. In this recipe, the flavor is literally the same in the stovetop version as the new Instant Pot version. The difference is that you don't need to simmer the soup for 30 minutes, it only takes 8 minutes in the Instant Pot. If you don't have an Instant Pot, here is the original version.
If you have men in the family who don't like vegetable soups, this is a great soup for them. It has a lot of healthy vegetables and greens, along with a little bit of meat to make them happy too. This soup also has a saltiness to it that most men love. Getting guys to eat the real Mediterranean diet can be a little difficult, but by adding a little meat to a vegetable/bean recipe, it can make all the difference.
If you are a vegan or vegetarian, it's really simple to make a vegan version of this soup. Just omit the sausage completely, and use vegetable broth instead of chicken broth. I have made this version and it's super good. I didn't miss the meat at all.
If you're looking for some other Mediterranean Soup Recipes, check these out!
Tuscan White Bean Soup with Sausage and Kale
7 Favorite Mediterranean Soup Recipes
Greek White Bean Soup with Orange Slices and Olive Oil
Purchasing an Instant Pot
The Instant Pot we use is the 6 quart version.   It is just right for recipes that serve 4 all the way up to 8 servings.  For us, it seems to be the perfect size. Below is the one we purchased from Amazon.  I highly recommend it!
Download our Free e-Book Today!