Shawarma is one of the most popular street foods in the Mediterranean and Shawarma seasoning is one of my all time favorite spice blends.  I like to use it on all sorts of different dishes (not just meat).  As a matter of fact, the best recipe I have made to date are roasted sweet potatoes with a maple shawarma topping.  There are so many different variations on shawarma seasoning that vary from household to household.  Most versions use coriander, cumin and black pepper, but from there it is a free for all.  For my version I use smoked paprika, cumin, coriander, clove, turmeric, cinnamon, ginger, salt and pepper.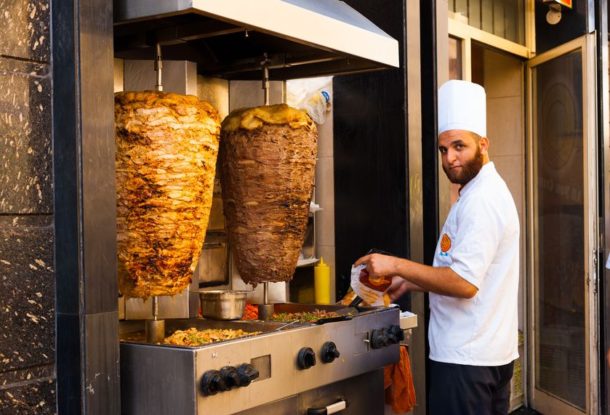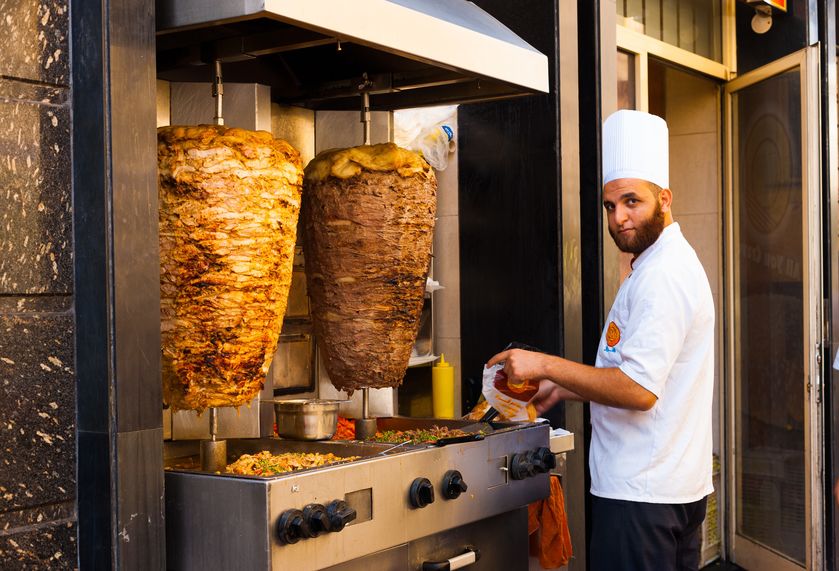 Traditional Shawarma is lamb seasoned with shawarma seasoning, sliced and layered onto an upright rotisserie.  As it cooks, thin slices are shaved off and put into pita and often served with french fries.  Today, chicken and beef shawarma are the most popular types of shawarma.  Of course, you don't have to make shawarma this way to use shawarma seasoning.
Shawarma seasoning makes an excellent spice rub for meat, chicken or fish.  You can either use it as a dry rub or mix it with extra virgin olive oil and dip the meat into the mixture and then roast.  Last week, I made a shawarma chicken and pepper dish in a skillet using chicken tenders.  I sautéed the chicken, peppers and some onion in this seasoning and olive oil.  The chicken came out super moist and quite flavorful and was wonderful in toasted pita.  I will be trying other recipes in the next week using the shawarma seasoning and will be sharing them with you.  It is a versatile spice blend and goes very well with sweet (maple, honey, brown sugar, molasses) or the acidic flavor of lemon.  Let me know if you try the blend and what you used it for!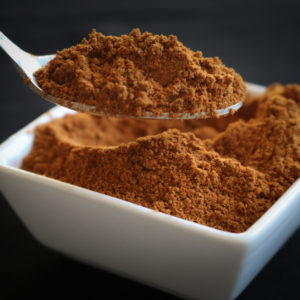 Shawarma Seasoning
Ingredients
1

tbsp

smoked paprika

1

tbsp

coriander

2

tbsp

cinnamon

1 1/3

tsp

cumin

2

tsp

powdered ginger

1

tsp

black pepper

1/2

tsp

clove

1/2

tsp

turmeric

1/2

tsp

salt
Instructions
Add all ingredients to a small jar or bowl. Mix well with a fork.
Nutrition
Calories:
15
kcal
Carbohydrates:
4
g
Protein:
1
g
Fat:
1
g
Saturated Fat:
1
g
Polyunsaturated Fat:
1
g
Monounsaturated Fat:
1
g
Sodium:
196
mg
Potassium:
65
mg
Fiber:
2
g
Sugar:
1
g
Vitamin A:
595
IU
Vitamin C:
1
mg
Calcium:
37
mg
Iron:
1
mg