Fire cider is a traditional herbal remedy with a long history of use in folk medicine. This infused vinegar combines spicy herbs that increase circulation and stimulate the metabolism with pungent, sour vinegar and sweet, soothing honey.
Fire cider can be taken regularly as a tonic or used as needed to prevent or support recovery from a cold or flu, to clear upper and lower respiratory congestion, to increase circulation, and to enhance immunity. It is also a potent, warming digestive aid.
Turmeric makes a flavorful addition; it supports liver function and digestion.
A few recipe notes from Bill Bradley, R.D. (Mediterranean Living):
This recipe takes 4 weeks to make so plan ahead!  We like to have some on hand for cold and flu season so we make it months ahead of time.
Don't add honey until the 4 weeks are done.
Make your fire cider in a glass jar with a non-metal lid,  We always make our fire cider in a glass mason jar.  Since we only have metal lids, we cut a piece of parchment or wax paper that will fit over the top of the jar and then we screw the metal lid onto the paper.  This makes a barrier between the fire cider and the metal.
Be prepared when you drink it!  It packs a wallop.  It may take some getting used to if you haven't had it before.  I love it now, but I still sometimes dilute it with some water.  You only need a small amount (like a tablespoon).
From the book: Recipes from the Herbalist's Kitchen by Brittany Nickerson.
Check out Brittany's blog here including her class schedule and shop.
Other recipes from Brittany Nickerson on Mediterranean Living:
Deep Sea Purple Sauerkraut (Real feremted sauerkraut full of probiotics)
Oregano Tea (Great for colds)
Prosciutto Wrapped Dates with Sage
Excerpted from Recipes from the Herbalist's Kitchen © by Brittany Wood Nickerson, used with permission from Storey Publishing.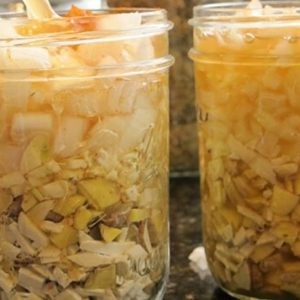 Turmeric Fire Cider