8 Mediterranean Salad Dressings
I eat countless salads and I like to switch up my dressing. Below are eight Mediterranean salad dressings that are simple to make, and much healthier than most store-bought dressings. These dressings can also be used as marinades for meat and fish.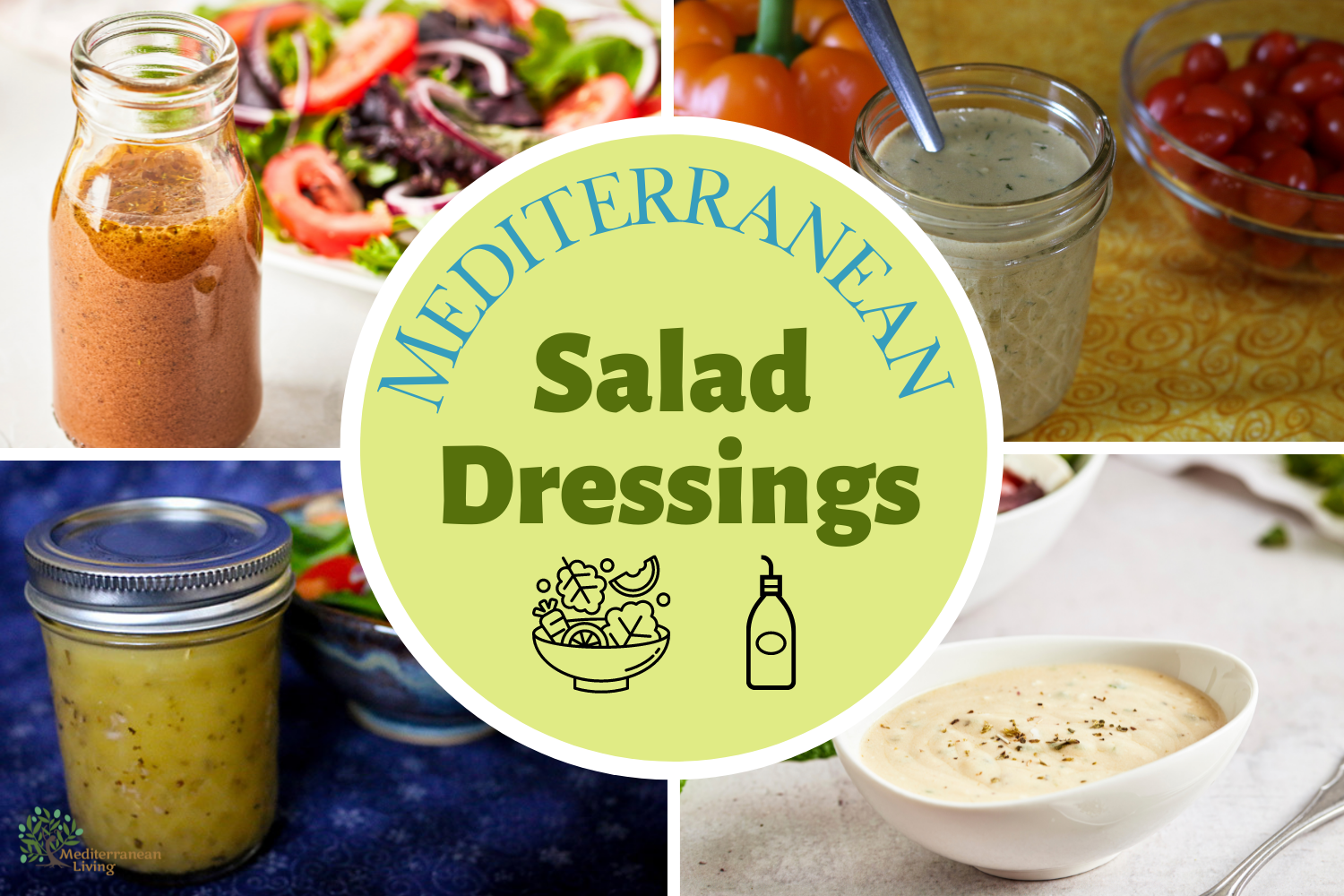 Some of these are brand new dressing recipes that you get to see first in this article! We're obsessed with the avocado dressing. The taste of lemon and dill are already great on many salads, but the creaminess of the avocado and yogurt make this dressing so satisfying.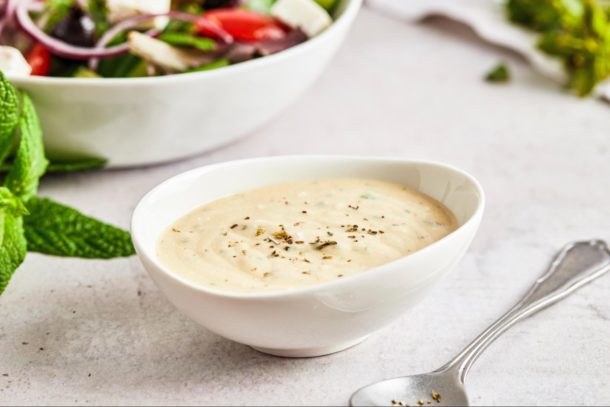 This creamy greek salad dressing with feta cheese is the perfect match for an authentic greek salad. Ready in 10 minutes, take your salads to the next level with this delicious dressing we've developed here at Mediterranean Living.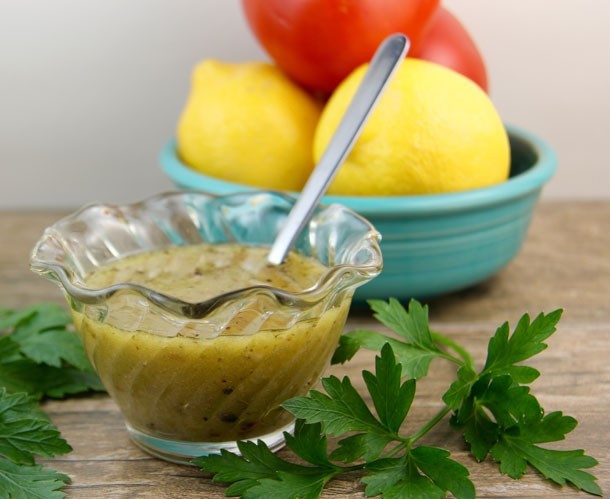 Extra virgin olive oil is the base for a real Greek dressing. This simple dressing has been one of the most popular recipes on Mediterranean Living for a long time and is the dressing that you will see on Greek salads made in restaurants in America. You have to try it.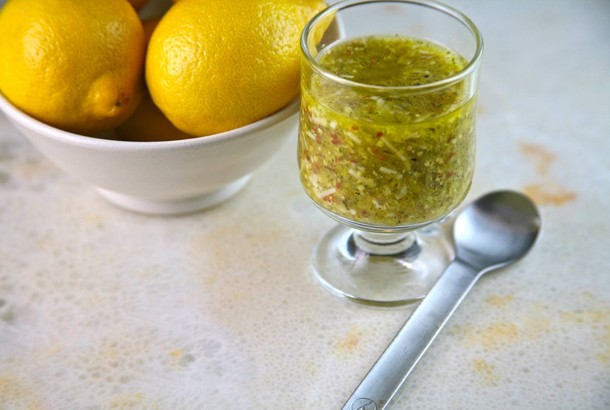 There is no need to buy store-bought salad dressings when you can make your own like this tangy and deliciously balanced Lemon Parmesan Dressing. This Mediterranean salad dressing is one of my favorites, is super easy to make and is better than anything you can get in a bottle.  It will last up to a week in the refrigerator.  Besides a salad dressing, this can also be used to top fish before baking.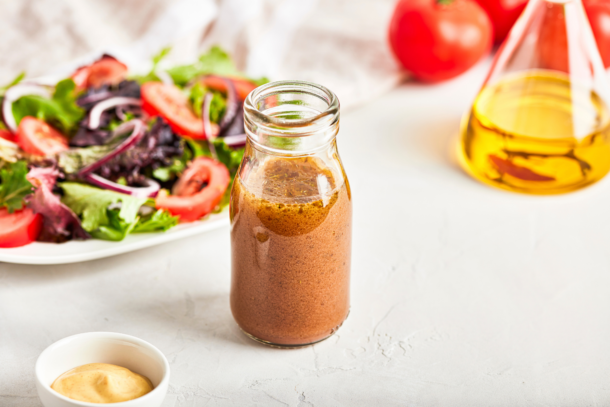 This is my go-to Mediterranean salad dressing.  I love this Dijon vinaigrette, because of it's blend of tangy sweetness that works on just about any kind of vegetable salad.  People seem to go nuts over this dressing and make it all the time. On Sunday, I will make this vinaigrette in a mason jar and use it all week.  I refrigerate it, but other people I know leave it out.  Whenever I need a quick salad dressing (or marinade), I just take it out of the fridge, give it a good shake and pour it on!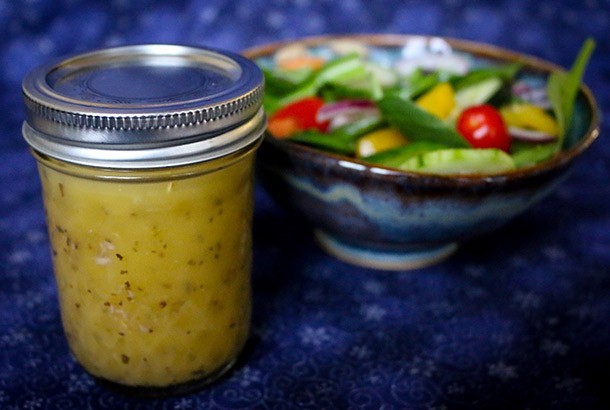 This is one of my favorite Mediterranean salad dressings that can be made in 5 minutes.  It gets its traditional tang from a mix of red wine vinegar and lemon juice.  I love this dressing on a salad with baby spinach or arugula, tomato, cucumber, red pepper, goat cheese and nuts (sesame, walnuts, almonds all work well).  This dressing will last a few weeks refrigerated, but the quicker you use it, the better the taste!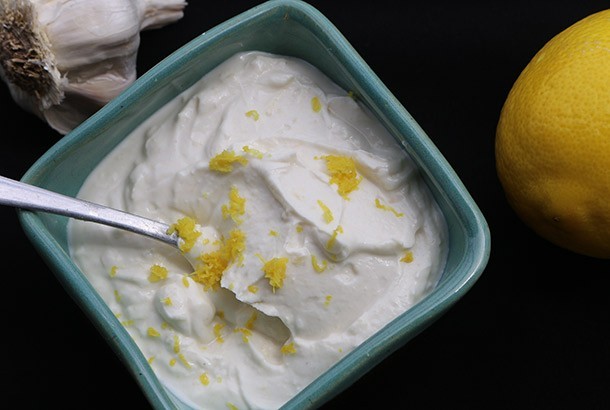 This is an extremely simple, healthy dip/dressing to make. Thick Greek yogurt, hearty tahini, fragrant lemon zest, pungent garlic, and a dash of sea salt all create a complex flavor with such minimal ingredients. Fresh, crunchy vegetables are great for dipping. Instead of buying dip for your next event, whip up this super simple and healthy dip. Your guests will be asking you for the recipe.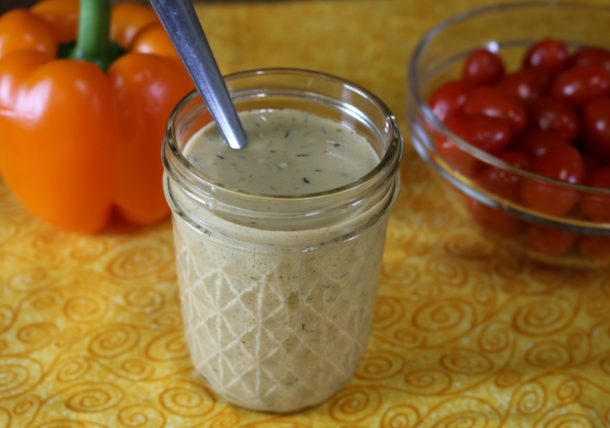 This salad dressing is super flavorful, easy to make and good for you.  The recipe was created when I was doing a Mediterranean Diet grilling workshop that was supposed to be for 50 people and 90 people showed up.   I hadn't made enough of my signature Honey Dijon Vinaigrette dressing to feed that many.  I had a large container of Greek yogurt with me and I had a jar of the honey dijon vinaigrette.  What else could I do, but mix the two together?  And guess what, everyone loved it and asked for the recipe (even the mayor) and a new balsamic dill yogurt dressing was born.  Since then I have used this recipe as a dressing, a dip, and a topping.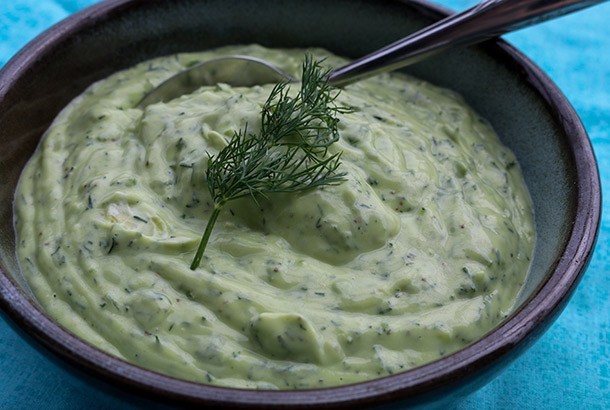 Avocados have become a very popular fruit lately.  In America, 4 times more avocados are consumed now than in 2001.  Americans eat over 4 billion avocados per year!  Avocado toast has become a sensation as well as using avocados in smoothies.  This recipe for Dill Yogurt Avocado Dressing is now our favorite Mediterranean Salad Dressing.  It is tangy, rich, delicious and darn good for you!
Bonus Recipe!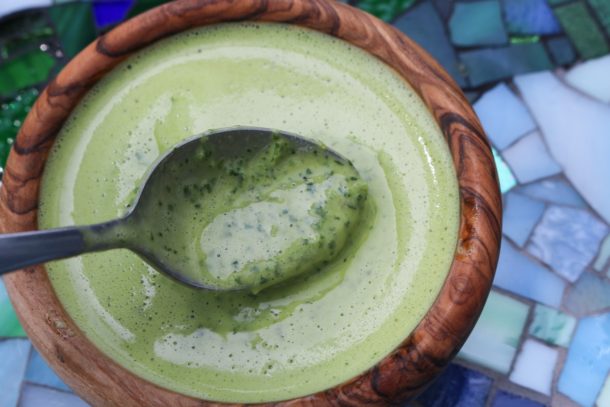 This tahini sauce recipe pairs with the Grilled Corn with Green Tahini Sauce, but can be also used a salad dressing or sauce for fish or chicken.
This tahini sauce was inspired by one of my favorite cookbook authors, Yotam Ottolenghi. He has an amazing combination of Mediterranean and Middle Eastern recipes that I've always found extremely creative. The food photos in his cookbooks are some of the most beautiful I've seen. I got his newest cookbook as a gift for Christmas (I never get tired of cookbooks as gifts) and I've been wanting to create my own version of a recipe I saw in there.
Here are some salads to try with these dressings:
Chickpea and Spinach Salad with Avocado (Greek Island of Crete)
Authentic Greek Salad (Horiátiki Salata)