In our house I am the condiment and dressing guy.  I love topping vegetables (and everything else) with all kinds of flavorful creations.  This creamy Greek feta dressing is my new go to favorite for a dip with vegetables or chips.  I also love it on our Greek Chop Chop salad.
When most people think of feta cheese they think of Greek salad, but feta can be used to make dressings for salads as well.  Feta cheese has been consumed for thousands of years in the Mediterranean and is a centerpiece of the Mediterranean Diet. In Ancient Greece it was believed that the god Aristaios, the son of Apollo, taught the Greek people cheese making and the cyclops Polyfimos was the first to make feta. Although the origins of feta cheese come from myths, there is no doubt that feta is Greek.
Traditionally, feta is made from sheep or goat's milk, placed in wooden barrels and then brined for several weeks. This produces a salty, tangy cheese that is high in probiotics, anti-inflammatory and a great source of calcium, B vitamins and phosphorous. The probiotic benefits of feta and the Greek yogurt in this recipe help nurture our gut microbiomes by enriching us with healthy bacteria that aid in digestion and boost our metabolism (great for weight loss!). This feta dressing is also packed with anti-inflammatory ingredients including olive oil, yogurt, oregano and mint.  Anti-inflammatory foods fight inflammation in the body that is caused by stress, environmental factors, and other underlying conditions. Studies have shown that chronic inflammation increases our risk for cancer and heart disease.
This dressing will pair nicely with any vegetables you might enjoy in a salad. However, our Greek Chop Chop Salad is made for this dressing. It's complete with juicy cherry tomatoes, kalamata olives, crispy red onion and cucumber. The additions of fresh mint and dried oregano give it an authentic Mediterranean flavor that will leave you astounded. Michael Pollan, author of the "Omnivores Dilemma" and "Botany of Desire", said, "Don't eat anything your great-grandmother wouldn't recognize as food". Tasty dressings like this one will help you consume more raw vegetables and whole foods from the Earth.  This is what eating Mediterranean is all about – simple, fresh ingredients prepared thoughtfully.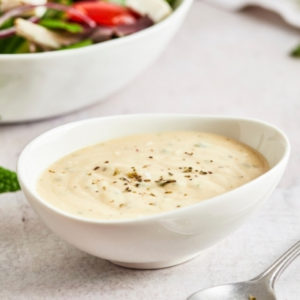 Creamy Greek Feta Dressing