Baked Tilapia Parmesan with Cherry Tomato Sauce is a great meal for those who are easing themselves into the Mediterranean Diet.  It has the familiar flavors of eggplant parmesan the way we know it in America, but is also loaded with healthy fats, cherry tomatoes, garlic and capers.  It is relatively inexpensive as fish go and can be made in about 30 minutes from start to finish.  I love sheet pan recipes that are quick, easy and taste good!
This kind of breaded recipe often uses egg to hold it all together, but I simply dip the tilapia in some extra virgin olive oil and then into the bread crumb/parmesan mixture.  The cherry tomato sauce is made in the pan with the fish so it is truly a one pan meal!
The most crucial part of this recipe is browning the top at the end of cooking.  Once you have turned the oven on broil you will want to pay close attention as not to burn the top.  The fish will continue cooking as the breading gets crispy and the mozzarella cheese melts and begins to brown a bit.  This is when you want to take it out of the oven.  If the fish isn't done at this point, you can always finish it by returning to baking mode, but usually will be perfect once it has baked and then broiled.
As is the Mediterranean tradition, I would serve this with a few vegetable sides.  The first time I made it I served it with a simple cucumber salad with Honey Dijon Vinaigrette and Sautéed Swiss chard with Garlic.  The cherry tomatoes and will couple well with almost any salad or vegetable dish, I would just stay away from anything with cheese since there are already two cheeses in the baked tilapia.
Enjoy and don't forget to rate and review!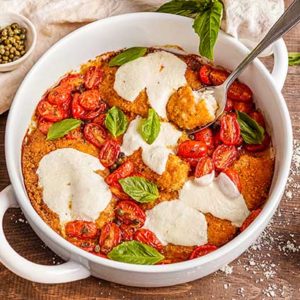 Baked Tilapia Parmesan with Cherry Tomato Sauce
Ingredients
BREADED TILAPIA
1/4

cup

extra virgin olive oil

4

filets tilapia (4 ounces each, around 16 ounces)

1/4

cup

bread crumbs

1/4

cup

parmesan cheese

1

tsp

smoked paprika
CHERRY TOMATO SAUCE
1

container

(pint) cherry tomatoes, cut in half

1

tbsp

balsamic vinegar

1/4

cup

extra virgin olive oil

1/4

tsp

salt

1

tbsp

dried basil

2

tbsp

capers, drained and rinsed

2

cloves

garlic, minced

1/4

pound

Mozzarella cheese, thinly sliced