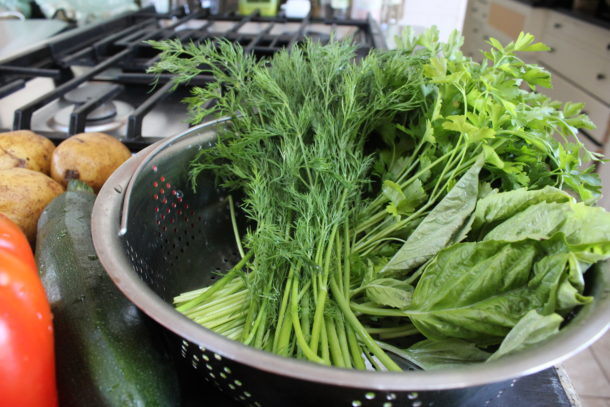 Briam is an amazing vegetable and olive oil based dish in the ladera family. Ladera (lathera) is a Greek word meaning "in oil". These foods are usually vegetable or bean-based dishes that are cooked in copious amounts of extra virgin olive oil. Briam is basically all of the summer vegetables from your garden like peppers, zucchini, eggplant, tomato, and some potatoes all cooked in a lot of fresh and dried herbs, onion, garlic, and a ridiculous amount of extra virgin olive oil. It is a completely vegan dish that isn't lacking in flavor whatsoever. These summer vegetables become melt in your mouth delicious. This is one of my favorite ways to eat vegetables because they taste rich and decadent without being unhealthy.
One of the great things about this recipe is that you can use whatever herbs and vegetables you have on hand! Besides the summer vegetables used in this recipe you can also add: sweet potatoes, pumpkin, mushrooms, broccoli, carrots, celery, fennel, leeks, chili peppers, or pretty much anything else you can cut into large pieces! Fresh and dried herbs are very interchangeable for this recipe. You can use just fresh, just dried, or a mixture of both. I like a mixture of both but it's up to you! Here is a list of herbs you can use for this recipe (but not limited to): parsley, basil, mint, thyme, rosemary, sage, oregano, and dill.
Two Important Tips not to ignore:
1. Cut everything into large pieces as shown below!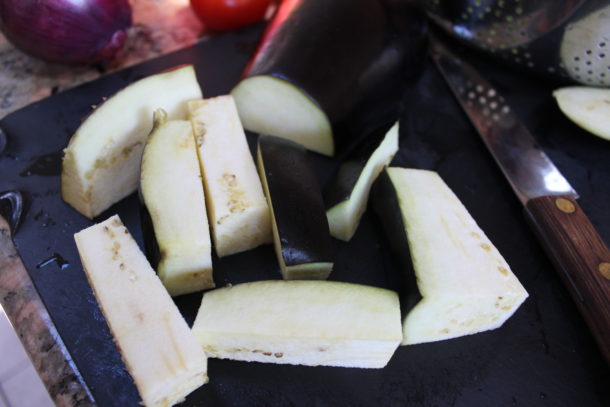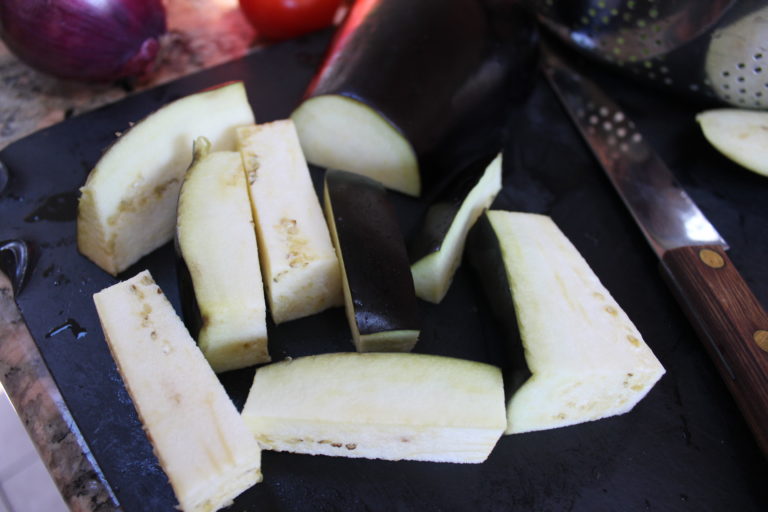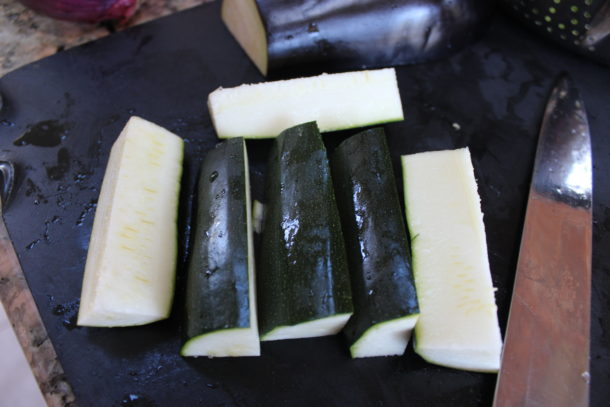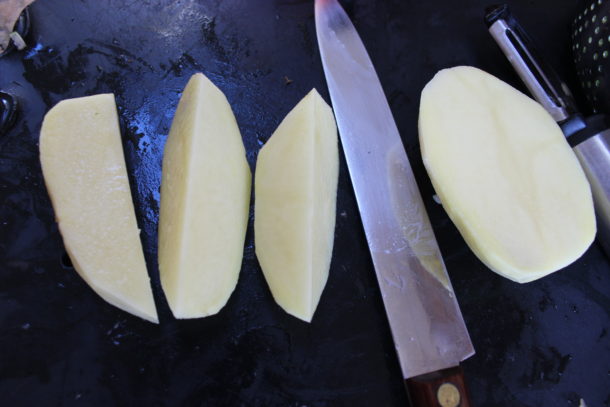 I make this dish when I have a bunch of different vegetables and herbs lying around and want to clean out my fridge and make something healthy that I can eat throughout the week. Most ladera dishes taste even better the next day because they've been soaking up the olive oil and herb flavor all night, kind of marinating the vegetables if you will. In late August, early September, I can go out to my garden and pick all of these vegetables and herbs and make it fresh. Peak tomato season is when this dish tastes the absolute best but I make it year round, and it's a very comforting dish in the winter too.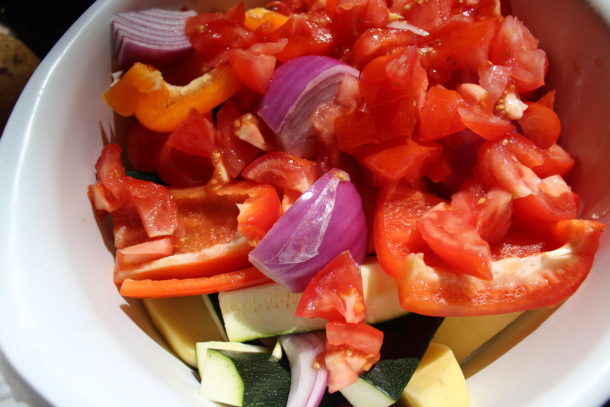 You may think this is a side dish, but in Greece it's actually a main dish. You get most of your calories from extra virgin olive oil in this dish. Take your favorite bread to dip in the leftover oil on your plate (because there will be some), and you'll be completely satisfied after eating, without feeling groggy or weighed down.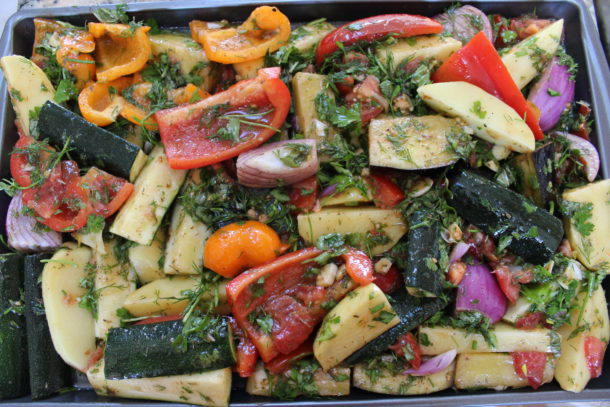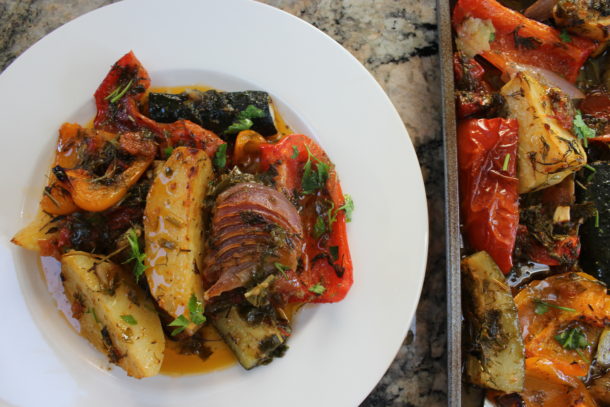 This is what your plate should look like after eating Briam, but don't forget to soak all that olive oil up with bread!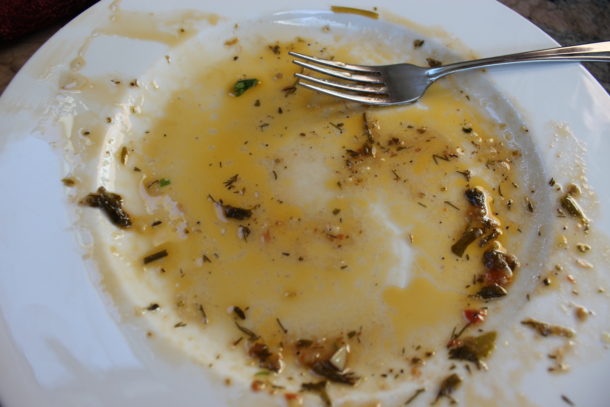 Some traditional Greek dishes to pair with Briam:
Authentic Greek Salad (Horiatiki Salata)
Greek Meatballs with Tomato Sauce (Soutzoukakia)
Zucchini Fritters with Feta, Cheddar, Mint, and Parsley
Greek Briam (Summer Vegetables Baked in Olive Oil)