Recipe by Koula Barydakis. Intro by Bill Bradley, R.D.
This is it.  My all time favorite recipe from Crete, maybe from the whole Mediterranean Diet: Zucchini Fritters by Koula Barydakis.  How can one go wrong?  Zucchini, onions, fresh mint, fresh parsley, two cheeses (feta and cheddar), bread crumbs, and eggs made into delectable morsels and then fried in extra virgin olive oil.  These are great for any meal, eaten with eggs for a true Mediterranean Diet breakfast or with a Greek salad at lunch or dinner.  Hell, I made them for our wedding!  I usually will double the batch, fry them all and then freeze leftovers in ziploc bags, about 6 per bag.  They defrost quickly and are great for when you don't know what to make for dinner or just need a speedy snack.  Sometimes, I serve them with Tzatziki on top or just plain Greek yogurt.  They are a complete meal in themselves (healthy fat, protein, carbs and healing herbs).  They are always the most popular hors d'oeuvre at any party and you will make friends if you bring them.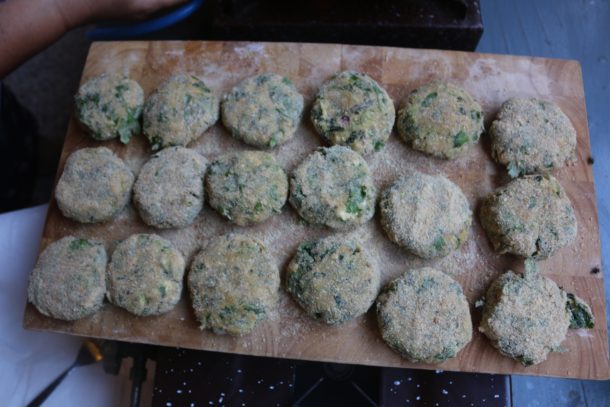 Any hoodles, I guess you have figured out that I love these.  Here are a few tips on how to make them perfectly.
 Grate don't chop.  You definitely want to grate the zucchini and the onions.  This gives it a texture you can't get from chopping.
Salt and squeeze.  Place the grated zucchini and onions in a colander and top with lots of salt.  Wait 10-15 minutes and really squeeze the remaining liquid out.  Usually, I grab a handful and squeeze the liquid out and then put in the mixing bowl.  This is still done this way in Crete even in restaurants.
Don't add too many bread crumbs.  I add the bread crumbs slowly.  You want the zucchini mixture to have just enough bread crumbs so that you can form a patty.  If you use too many, the fritters will come out bready.
Don't let the oil burn.  Fry the fritters on medium heat.  I usually get the fritters formed and then turn on the heat.  When you are between batches it is good to take the pan off the heat.  If the oil gets too hot and begins to smoke, you should discard and replace.
That's it.  I hope you enjoy these fritters as much as I do!
You will find over 100 more amazing recipes in our cookbook: Foods of Crete: Traditional Recipes from the Healthiest People in the World by Koula Barydakis and Bill Bradley, R.D.  Buy it at Mediterranean Living and get free shipping!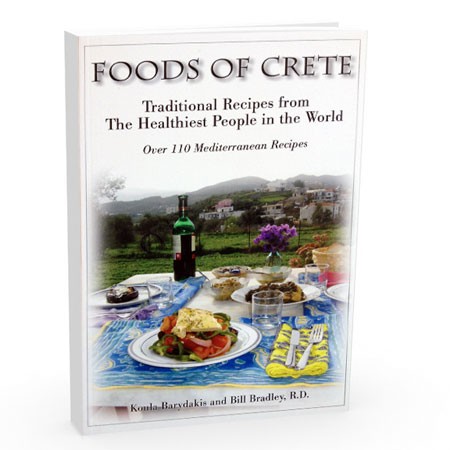 SaveSave
SaveSave
SaveSave
SaveSave
SaveSave
SaveSave
SaveSave
SaveSave
SaveSave
SaveSave
SaveSave
SaveSave
SaveSave
SaveSave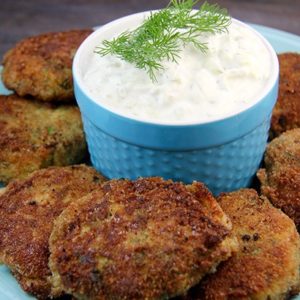 Zucchini Fritters with Feta, Cheddar, Mint and Parsley
Ingredients
5

medium

zucchinis, grated

1

cup

onion, grated

1/2

tbsp

salt

4-6

eggs

1

cup

cheddar cheese, grated

1/2

cup

feta cheese, grated

3-4

cups

bread crumbs

1/2

cup

fresh mint leaves, chopped

1

cup

fresh parsley, chopped

1/4

tsp

freshly ground pepper

1

cup

Olive oil for frying
Instructions
Place grated zucchini and onion in a colander. Add ½ Tablespoon salt, mix and let drain for 15-20 minutes. Squeeze out extra liquid with hands.

In a large bowl, add 2 beaten eggs, cheddar and feta, 1 cup bread crumbs, mint, parsley, and ground pepper. Add zucchini/onion mixture. Mix ingredients with a fork. Continue adding breadcrumbs until fritters can be formed with your hands.

Beat 2 eggs in a small bowl.

In another bowl, add 1 cup breadcrumbs.

Heat 1 cup of olive oil in a frying pan. Be careful not to overheat oil.

Form fritters with mixture, dip in or brush with egg and then bread crumbs.

Fry in olive oil. Drain on paper towels.
Nutrition
Calories:
436
kcal
Carbohydrates:
29
g
Protein:
12
g
Fat:
31
g
Saturated Fat:
8
g
Polyunsaturated Fat:
4
g
Monounsaturated Fat:
18
g
Trans Fat:
1
g
Cholesterol:
84
mg
Sodium:
778
mg
Potassium:
430
mg
Fiber:
3
g
Sugar:
6
g
Vitamin A:
1038
IU
Vitamin C:
27
mg
Calcium:
221
mg
Iron:
3
mg