The newest of my Instant Pot Chicken recipes!  A few months ago I created a recipe using chicken thighs, mustard greens, and olives in the cast iron skillet. I thought this would be a perfect recipe to adapt for the Instant Pot. The reason I created the first recipe was because I wanted a recipe that made people enjoy eating mustard greens. You can find the original Skillet Chicken with Lemony Mustard Greens and Olives here.  Many people don't know how to cook mustard greens, and are intimidated by their strong smell and flavor. Everyone who's tried this recipe has told me they're not used to eating mustard greens, but these are delicious! My new friend Toni grew up in the South. She said she never liked the greens they made there and when she saw I was serving chicken with greens, she wasn't going to take any greens. She decided to take a chance and she loved them.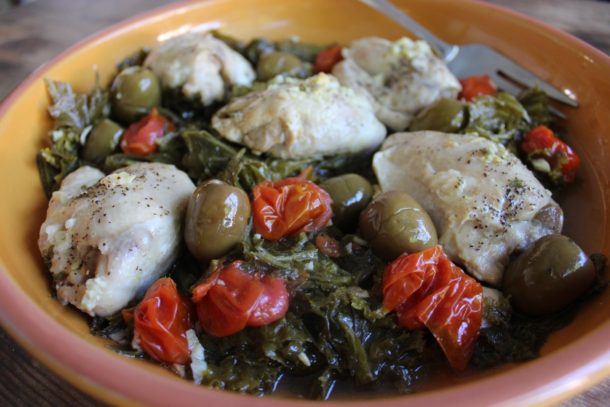 There are a few additions to this recipe from the original so that it works in the Instant Pot. It requires a little more liquid so that nothing burns. I knew white wine would create a delicious broth and it takes away some of the bitterness of the greens. I also added a teaspoon of dijon mustard and honey for added flavor.  Another thing I did was use boneless and skinless chicken thighs because I knew the skins weren't going to crisp up in the Instant Pot. With the original version, the thighs are seared and the skin gets crispy, but with this version I didn't want to serve anyone soggy chicken skin.  I hope you enjoy this and our other instant pot chicken recipes!
I would serve this with good bread for mopping up the juices and a traditional Greek salad.
Here are some other Instant Pot Mediterranean recipes:
Horta (Greens) and Potatoes in the Instant Pot
Instant Pot Black Eyed Peas with Fresh Dill and Parsley
Instant Pot Moroccan Chicken Tagine with Green Olives, Peppers, and Lemon
Instant Pot Fasolakia (Green Beans and Potatoes in Olive Oil)
Instant Pot Green Beans with Pork and Potatoes
Purchasing an Instant Pot
The Instant Pot we use is the 6 quart version.   It is just right for recipes that serve 4 all the way up to 8 servings.  For us, it seems to be the perfect size. Below is the one we purchased from Amazon.  I highly recommend it!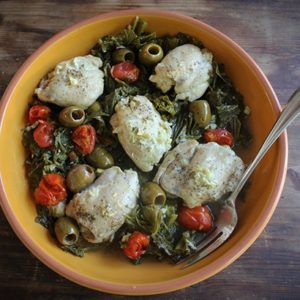 Instant Pot Chicken with Lemony Mustard Greens and Olives