Polenta is a very versatile grain (coarse cornmeal) that can be enjoyed for breakfast as a porridge or eaten as a main meal baked, fried or grilled.  When you are making polenta from scratch you will always begin by making the porridge and then you can decide what to do with it next.  With this polenta pizza recipe, the porridge is flattened and then baked in the oven to make the crust.
As with any pizza, the true magic is in the toppings.  Anything is fair game for polenta crust, but I particularly love the combo of caramelized onions and mushrooms which I pre-sauce in olive oil, red wine and thyme.
Top the pizza, bake for 15 more minutes and enjoy a naturally gluten free, traditionally Italian polenta pizza.
Salad is my favorite side for a pizza meal.   I would recommend a simple salad of lettuce, tomatoes and cucumbers with Honey Dijon Vinaigrette.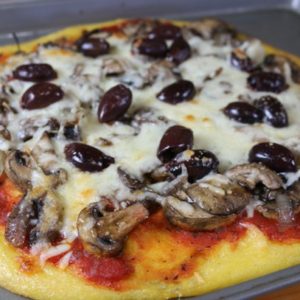 Italian Polenta Pizza with Caramelized Onions and Kalamata Olives (Gluten Free)