I love it when a recipe becomes an instant family classic! This lentil tabbouleh and butternut squash recipe is not only filling and a complete meal, but was gobbled up by all of us in a ridiculously short period of time. Even our toddler couldn't stop eating the beans and squash flavored with maple syrup, garlic, sumac, lime and parsley.
What is lentil tabbouleh?
Lentil tabbouleh is a variation of the tabbouleh with bulgur many of you may be familiar with. It is perfect for fall and winter as it doesn't rely on tomatoes, but instead focuses on late season vegetables like butternut squash and peppers. These tend to fare better throughout the winter months making this a delicious meal on a snowy day.
How do lentils and squash fit into the Mediterranean Diet?
Both lentils and squash are staples of any Mediterranean Diet meal plan. Lentils are very high in polyphenols which have been shown to help reduce risk of heart disease, type 2 diabetes and potentially cancer while improving both the brain and the gut microbiome. Lentils also have one of the highest antioxidant levels compared to other legumes. Butternut squash is also high in both polyphenols and antioxidants and it's skin has been shown to be helpful in lowering blood glucose. The entire meal is packed with fiber and lots of nutritional goodness.
A quick meal
The trick to making this meal lickety split is to cut the squash thinly and to get it in the oven first and then to start prepping the tabbouleh. If you are making the lentils at home, start them cooking right away also so they have time to cool down. This dish is amazing served warm or cold. Personally, I loved it just a little on the warm side.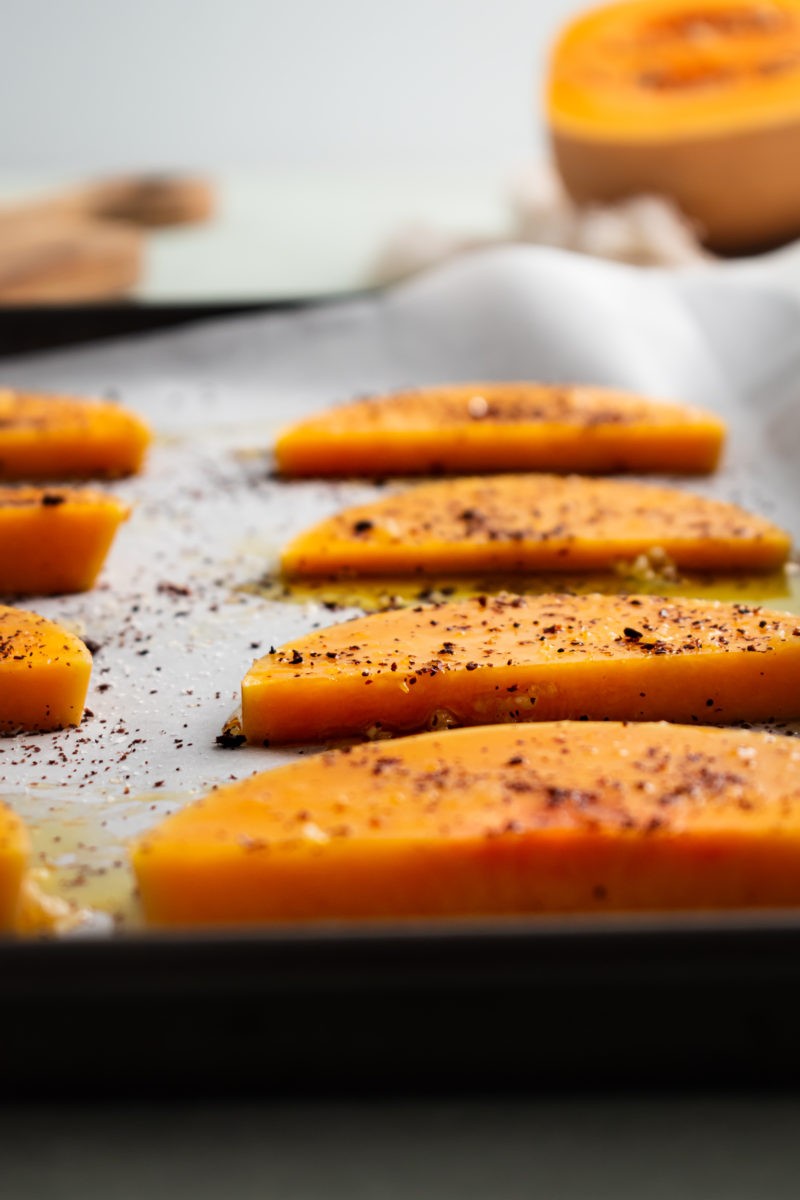 What is Sumac?
Sumac is a spice that has a pungent, tart flavor. It is used mostly in middle eastern cooking and is well known as a salad dressing ingredient in Fattoush Salad. Sumac has a very unique flavor, but in this recipe, you can substitute paprika if you don't have sumac.
Lentil Tabbouleh with Roasted Squash
Ingredients
Squash Prep
1

ripe

butternut squash, sliced thinly in half-moons

1/4

cup

extra virgin olive oil

2

tbsp

maple syrup

4

garlic clove, minced

1

tbsp

sumac (it offers great taste, but it can be replaced with paprika for a mild version)

salt and pepper, to taste
Lentil Prep
2

cups

cooked lentils (canned or prepped at home with 3/4 cup dried lentils)
Tabbouleh Prep
1/4

cup

yellow bell pepper, chopped

1/4

cup

red bell pepper, chopped

1/4

cup

red onion, chopped

1/2

garlic clove, chopped

1

lime, juiced

3

tbsp

extra virgin olive oil

1/2

cup

fresh parsley, sliced

salt and pepper
Instructions
Preheat the oven to 425º F.

Line a baking sheet with parchment paper (you may need more then 1 baking sheet) and arrange the squash half-moons. Season them with olive oil, maple syrup, garlic, sumac, salt and pepper. Roast for 25 minutes, or until golden brown.

To make the tabbouleh, mix the lentils, yellow bell pepper, red bell pepper, red onion, garlic clove, lime juice, olive oil, fresh parsley, salt and pepper.

Serve with the roasted squash and fresh parsley.
Nutrition
Calories:
451
kcal
Carbohydrates:
50
g
Protein:
12
g
Fat:
25
g
Saturated Fat:
3
g
Polyunsaturated Fat:
3
g
Monounsaturated Fat:
18
g
Sodium:
15
mg
Potassium:
986
mg
Fiber:
15
g
Sugar:
11
g
Vitamin A:
15847
IU
Vitamin C:
77
mg
Calcium:
124
mg
Iron:
5
mg