Fear and Loathing and my first Tortilla Española in Spain:
When I was 18, I spent a night passed out under a tractor trailer in Vitoria, Spain, the Basque capital.   I had spent the previous evening with 3 of my high school buddies, one of which hailed from Vitoria.  We had smoked cigars simultaneously with thousands of adults and kids of every age as a Mary Poppinesque dude dressed all in black, holding an umbrella  glided across a wire from high above us all.  It was the beginning of the annual fiesta: a magical, drunken night that went well into the morning. At one point I was holding myself up between two walls in a disco and dancing in mid air, and many hours later, I was separated from my friends and passed out under an 18 wheeler truck.
I woke up the next day, not sure of where I was or how I got there.  What was clear was that I had no idea how to get back to my friend's house.  Luckily, somewhere, scribbled on a crumpled piece of paper in my wallet, was his address.  But before I worried about getting back, I had to fill my empty, hungover stomach.
I walked into the square feeling self conscious about using my horrendously bad Spanish.  I found a small food cart.  A grizzled old man, smoking a cigarette, was selling what looked to me like a thick quiche.  He had three of these egg "pies" on the shelves of his cart.  One of them had slices removed and I could see the slices of potato in the egg.  With little concern for the lack of refrigeration, I just looked at him and raised my finger to let him know I wanted 1 order.  He cut me a hefty slice of what I later learned was Tortilla Española, a potato omelet that is as popular in Spain as the hamburger is in the United States.  The old man also cut a large slice of  baguette and handed them both to me on a napkin.
Having an empty stomach and a hangover can make most any egg dish taste incredible, but this was beyond that.  My first bite was purely out of hungry desperation and it went down quickly, but I immediately fell in love and slowed down to really enjoy one of the best breakfasts of my life. Tortilla Española, like many of my favorite Mediterranean dishes, is simple and has only a few ingredients.  But when the ingredients are potatoes and onions fried in a lot of olive oil, eggs, salt and pepper, what could be better?  Not many foods deserve the word "rustic" more than Tortilla Española, and when combined with some freshly baked bread, it is truly one of the culinary treasures of the Mediterranean.
I loved Tortilla Española so much that I later pressed my Spanish friend to teach me how to make it.  A few days later, his girlfriend ended up showing me how to make the recipe below.  It is still one of my favorite dishes from Spain.
Check out more delicious Mediterranean Diet breakfast recipes here!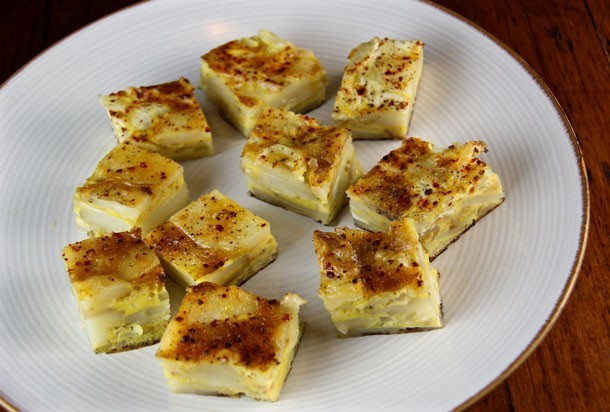 SaveSave
SaveSave
Download our Free e-Book Today!