When I was growing up, my mom did most of the cooking. Inspired by her Italian grandmother and ancestors, she made delicious pasta dishes, baked bread and comforting casseroles. My dad, on the other hand, would only cook on occasion and it always revolved around the same thing – fresh fish. Much to my mom's chagrin, these nights felt very special as a kid because dad was cooking. Not only was he cooking, but his excitement about the fish he had selected at the fish market was contagious. One of the reasons he would get so excited is because he would buy it from a fish market where he had worked for years. Sometimes he would bring me into the market with him and I'd watch him catch up with his old friends still working there. They were always sure to tell my dad what the best fish of the day was. And more often than not, that fish was haddock.
This recipe for sheet pan haddock reminded me of my dad and how food felt like an adventure on those nights he would cook. As I've gotten older, fish is still one of my favorite things to eat and so I've discovered ways and recipes that make preparing fish easy and delicious. Sheet pan recipes are a great route to go if you want a delicious, well-rounded meal, not a lot of dirty pots and pans, and a beautiful presentation. In this recipe, the haddock is topped with a tasty combination of Swiss chard, sun-dried tomatoes, olives and capers that gives it a delicious Mediterranean flare. The fish is also rubbed with three of my favorite spices (paprika, oregano, and thyme), which are all staples of Mediterranean cuisine. As the haddock cooks on the sheet pan with the other ingredients, the flavors all come together and the final result is delicious. Oh and I forgot to mention… this recipe only takes about 20 minutes! Pair it with a dry white wine like a sauvignon blanc or pinot gris and enjoy.
Check out more of our Mediterranean diet fish recipes below.
Baked Halibut with Lemon and Rosemary (Greece)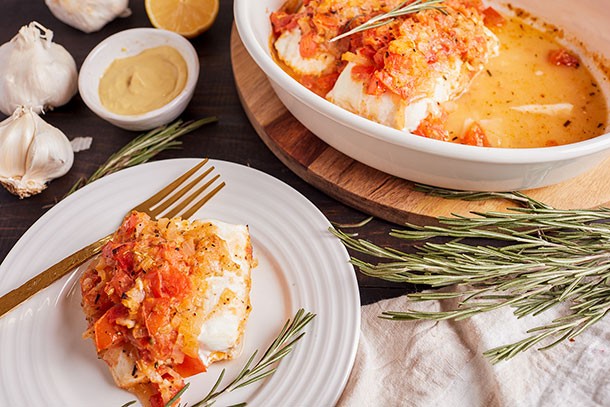 Sheet Pan Salmon with Asparagus, Lemon and Dill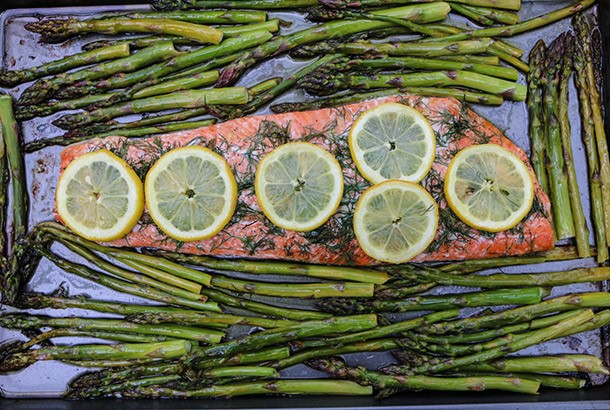 More information here about pairing this dish with wine!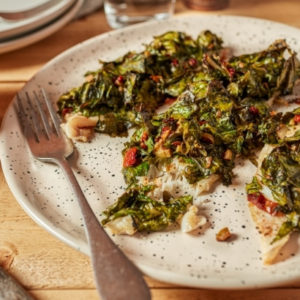 Sheet Pan Haddock with Swiss Chard and Sun Dried Tomatoes