Make the best bone broth at home in your crock pot
Bone broth is rich in minerals, gelatin, amino acids, and healthy fats. It is excellent for the digestive, musculoskeletal, immune, and endocrine systems. The cooking process transforms bones into one of the most nutritious and easy-to-digest foods that I know of. Without this process, bones are something that humans could not otherwise even chew, much less extract nutrients from. A lot of us think of bones as leftovers to be tossed out with the trash, but the cooking process elevates them to royalty. I recommend adding something acidic to your broth, like vinegar, citrus juice, or wine. It helps extract minerals from the bones as the broth cooks. The longer the broth cooks, the better. To make the best bone broth, I recommend you prepare it in a slow cooker, where it can simmer for days. But you can use a soup pot on your stove top also. 
Bone broth can serve as a wonderful base for medicinal herbs. Immune-boosting herbs like shiitake and maitake mushrooms and astragalus root or mineral-rich herbs such as nettle and seaweed can be added at the beginning, with the bones, to enjoy the long, slow cooking process. Tender aromatic herbs such as the thyme, rosemary, and parsley can be added in the last few hours. This is so that their aromatic oils don't evaporate during the long cooking process. Also consider keeping vegetable scraps in the freezer to add to your stock with the bones for extra flavor and nutrition. 
Where to get the bones.
You can get bones at any butcher or fishmonger. You can also use bone scraps from meats you have cooked and eaten, including chicken carcasses and lamb, beef, or pork bones.
Check out Brittany's blog here including her class schedule and shop.
Other recipes from Brittany Nickerson on Mediterranean Living:
Deep Sea Purple Sauerkraut (Real feremted sauerkraut full of probiotics)
Oregano Tea (Great for colds)
Prosciutto Wrapped Dates with Sage
Excerpted from Recipes from the Herbalist's Kitchen © by Brittany Wood Nickerson, used with permission from Storey Publishing.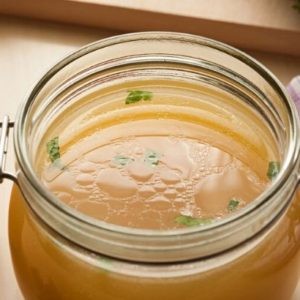 The Best Bone Broth, Made in a Crock Pot
Ingredients
2

pounds

bones (lamb, beef, chicken, fish; see note)

1/4

cup

apple cider vinegar

1

gallon

water, or whatever amount your slow cooker will hold

4-6

sprigs

fresh parsley (about 1⁄4 cup)

4-6

sprigs

fresh thyme or 1 tablespoon dried

2

springs

fresh rosemary or 1 tablespoon dried

2

sprigs

fresh sage or 1 tablespoon dried

1

bay leaf
Instructions
Combine the bones and vinegar in a slow cooker with enough water to cover by at least an inch. Cook on high until the liquid begins to simmer, then reduce the heat to low and cook for at least 48 hours and up to 72 hours — the longer the better. As the broth cooks, the water level will reduce; add hot water