When people think of pesto they usually think 5 ingredients: Basil, Garlic, Olive Oil, Parmesan Cheese and Pine Nuts.  For a fully traditional pesto the ingredients are pretty much cut in stone and the very traditional way of processing pesto is in a mortar and pestle.  Since all of these ingredients are not always available (or are too expensive) there is much room for variation when making pesto.  For example, our friend Brittany Nickerson, an herbalist and the author of The Herbalist's Kitchen, makes oregano pesto and she even foregoes the cheese.  Mediterranean Living's George Zikos can't eat dairy so he makes a pesto without the cheese and adds arugula to the basil for extra flavor.  You can make pesto with sun dried tomatoes, parsley, pistachio nuts and lemon.  There are so many variations, but one of my favorites is just using walnuts instead of pine nuts creating a flavorful walnut pesto.  Walnut pesto is less expensive than pesto with pine nuts and walnuts are often more likely to already be a staple in your house and are more likely to be on hand when needed.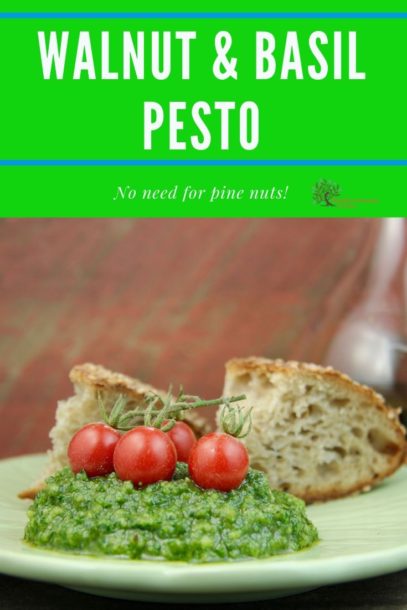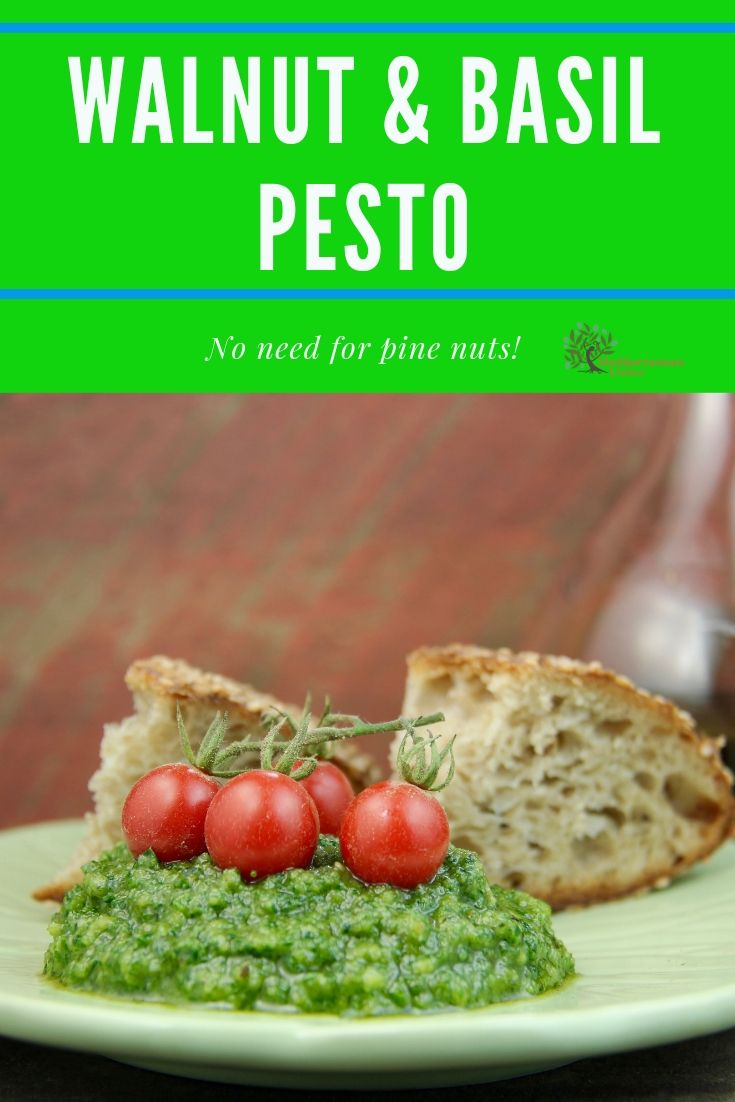 The basics of this pesto are the same except for using walnuts instead of pesto.  We also use a food processor to save time.  If you don't have a food processor nor a mortar and pestle check out my video on how to make pesto without a food processor.  You can use that method for making this version as well.
You can quickly pull together this easy and inexpensive Basil Walnut Pesto recipe and use it for your appetizers and main dishes. It's packed with Omega 3's too. Serve with crostini or on a caprese salad for your appetizer. Mix in with pasta dishes or swirl it in a homemade soup. Ever versatile, we come back to this recipe time after time. Enjoy!
Photo by Christine Dutton.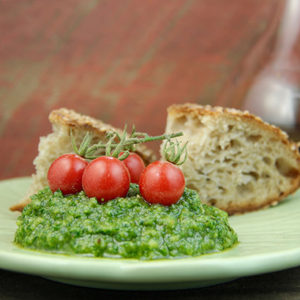 Basil and Walnut Pesto
Ingredients
4

cloves

garlic

1/2

cup

shelled walnuts

2

cups

fresh basil, stems removed

1/2

cup

extra virgin olive oil

1/2

cup

Parmesan cheese, grated

Salt, to taste
Instructions
Mince garlic in a food processor.

Add walnuts and pulse chop into small bits.

Add basil and olive oil. Process for about 30 seconds.

Add Parmesan and process to desired consistency. Salt, to taste
Nutrition
Calories:
395
kcal
Carbohydrates:
4
g
Protein:
8
g
Fat:
40
g
Saturated Fat:
7
g
Cholesterol:
11
mg
Sodium:
193
mg