Here are seven Mediterranean picnic food ideas to try the next time you're planning a picnic. These Mediterranean diet foods are light and easy to pack along with you. The first recipe is a brand new deviled egg recipe that uses extra virgin olive oil instead of mayo. They are jazzed up a little with capers and chives. Pesto is a perfect summer food and I recommend bringing a loaf of good bread to smear the pesto on, and some juicy fresh tomatoes to put on top. Speaking of tomatoes, I've included a classic, tomatoes with feta cheese and fresh herbs. This is the real taste of summer. There are also three perfect Mediterranean/Lebanese dips that are perfect for a picnic, refreshing tabouli, creamy homemade hummus, and smokey, earthy baba ghanoush! These three dips are a match made in heaven with the falafel recipe also listed here. This is a bright green falafel loaded with herbs and spices. You can make the falafel the day before, or that day, and make pita pockets with all of the dips. Enjoy these healthy Mediterranean diet recipes on your next picnic!
Deviled Eggs with Olive Oil, Capers and Chives
In my circle, people either seem to love mayo or hate it.  I am someone who happens to love it, but I still don't use it all that often.  Recently, one of my mayonnaise hating friends said to me "Deviled eggs no mayo please"  Well, here you go friend, Deviled Eggs with Olive Oil, Capers and Chives. The first tip on making deviled eggs is to make the perfect hard boiled egg.
The Best Vegan Pesto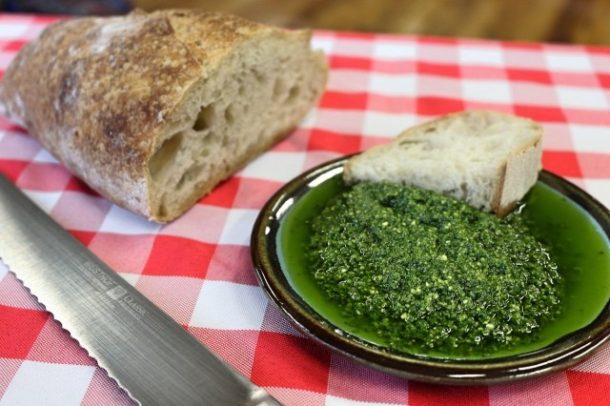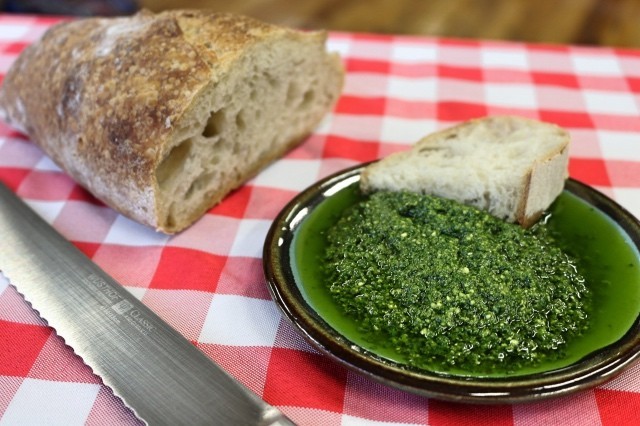 Pesto can brighten up any dish. It's so fresh tasting and it adds a ton of flavor to any salad, pasta, or sandwich. I like to eat it on a caprese salad. Pesto is also really good for marinating and grilling. Since many people are going vegan and gluten-free these days, try out this recipe with gluten-free pasta and skip the cheese, and you'll be surprised at how good this pesto recipe tastes.
Tabouli
Tabouli is one of the most refreshing mezes out there. It's the perfect healthy, light summer food to cool you down. It's mostly fresh parsley which gives it the beautiful dark green color. It uses bulgur which is whole wheat. The addition of freshly chopped tomatoes and lemon add acidity. This tabouli recipe is delicious by itself, but even more amazing with fresh pita bread to scoop it up. I also love putting it in a falafel pita with hummus too. What makes this meze so easy to make is that you don't actually need to cook anything. You let the bulgur wheat soak in very hot water but that's the extent of cooking you'll do. Make sure to buy fine bulgur for this recipe because the coarser bulgur won't cook through with just hot water.
Lebanese Hummus
The variety of different types of hummus in the grocery store is growing rapidly. The thing is, homemade hummus is so inexpensive and easy to make that the store-bought hummus won't taste the same after you try this version. Hummus is a traditional Mediterranean diet recipe and is made with extra virgin olive oil, not canola oil, while most store-bought hummus contains canola oil. Your homemade hummus will already taste better and be healthier with extra virgin olive oil.
Tomato Slices with Feta Cheese and Fresh Herbs (Island of Crete)
This has all the hallmarks of my favorite Mediterranean Diet recipes: Fresh tomatoes, fresh herbs, cheese and lots of olive oil.  It is best to make this when all the ingredients are in season, the tomato at its full juicy ripeness, the herbs pungent and full of flavor.  It can be a summer lunch with the addition of fresh bread and Greek olives and a glass of wine or a side dish at a Mediterranean barbecue with chicken souvlaki and grilled Caesar salad.
Falafel
I have been looking for the perfect Falafel recipe for about ten years now.  There have been some horrible failures and some pretty good successes.  I finally have found the perfect Mediterranean Diet recipe for Falafel!
My all time favorite cooking failure (in hindsight)
I was cooking dinner for 35 people and had falafel as the main course.  I was being particularly adventurous and was using an untried recipe for the first time.  I have done this before in workshops, trying out a new recipe on a group of unsuspecting participants, usually with a good outcome.  This falafel dinner was another story.
Baba Ghanoush
A couple weeks ago we gave you a Lebanese hummus recipe, and now we are giving you a similar traditional Mediterranean diet recipe called Baba Ganoush. Lots of Mediterranean cultures have their version of an eggplant dip. This eggplant dip is smokey, earthy, and garlicky. The process of making Baba Ganoush is very similar to hummus in that you blend everything up in a food processor until your desired consistency. Instead of garbanzo beans (chickpeas) though, we use a roasted eggplant. You bake the eggplant in the oven with the skin on for 50 minutes and let it cool enough to handle. Once its cool it will be easier to peel the skin off to reveal the flesh. The eggplant flesh gets blended up with the rest of the ingredients. We like to serve Baba Ganoush as a dip or as an appetizer. We dip good bread, pita bread, or grilled veggies in the Baba Ganoush. If you liked the Lebanese hummus recipe, definitely try this one too!
Enjoy these picnic food ideas all spring, summer and fall long!