I love quiche because of it's ability to surprise.  If I see a quiche at a party it is always the first thing I gravitate too because 1) it is usually the first thing gone and 2) I want to find out what is inside.  I don't remember many disappointments in the quiche department.  I take a bite and think to myself, "oh, that's creamy" or "I wouldn't have thought to add bacon to a butternut squash quiche" or "wait a second, are those lentils?"  Delightful flavor explosions are cornerstone of a really masterful quiche.  This quiche has me happy because it is a roasted potato crust quiche.
So many people are gluten free today or just trying to stay away from flour that I wanted to create something that wouldn't disappoint the avid quiche aficionado but still not use regular pie crust.  The addition of the roasted potato gives this egg dish the taste of a traditional Spanish Tortilla Espanola which is just eggs, potato, onion and olive oil.  A quiche, of course comes out creamier than the Tortilla because of the addition of milk and cheese.  I have also added roasted broccoli, thyme and garlic for added flavor dimension.
If you follow the steps below, I think you will find this potato crust quiche quite easy to make
Cut enough thin potato slices to single layer cover a quiche dish, pie plate or cast iron pan. I cut the potatoes as I am filling the dish so as to only use what I will need.  You can leave a small amount of space between the potatoes.  Once you have figured out how many you slices you need to fit in the pan then take them out and add olive oil, salt and pepper.  Add back to the dish or skillet and then roast. 
While you are roasting the potatoes, roast the broccoli and onions as well.  The broccoli takes less time than the potatoes so just pay attention as they both roast in the oven. 
Add the roasted broccoli to the egg mixture and whip with a fork or small whisk.

Finally, add egg and broccoli mixture to roasted potato crust.  No need to stir at this point as you don't want to disrupt the placement of the potatoes.

Enjoy!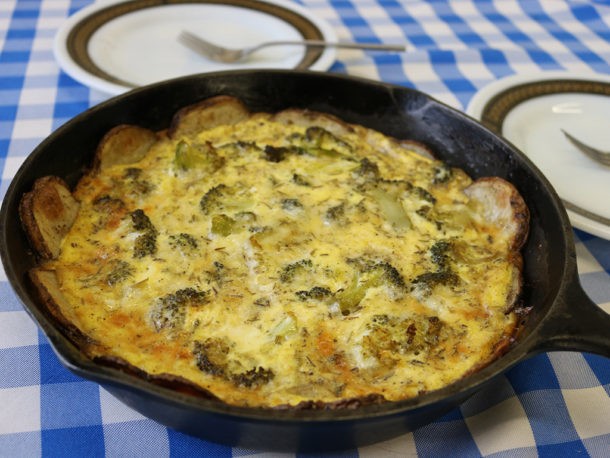 Check out our article 7 Mediterranean Diet Breakfasts for more breakfast ideas!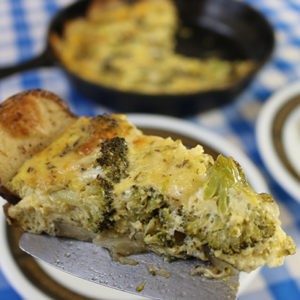 Broccoli Quiche with Roasted Potato Crust