Chicken Skillet:  When you only have 20 minutes to make dinner.
This recipe for Chicken Skillet with Mushrooms and Slivered Parmesan is delicious and versatile. Whether you're looking for a quick recipe for lunch or something to take center stage on the dinner table, the combination of flavors in this dish are tried and true. The chicken breast comes out juicy after being cooked in white wine and extra virgin olive oil, which are two staples of the Mediterranean Diet.
A traditional Mediterranean chicken meal would have small amounts of chicken with lots of vegetables, extra virgin olive oil and herbs.  Simplicity is a hallmark of the Mediterranean diet (5 ingredients or less), but freshness is important.  If you can, get free range chicken that has eaten grass and herbs.  This will make the chicken both tastier and healthier with an abundance of omega 3 fatty acids.  A recipe such as chicken skillet would be served with a large salad on the side and some bread.  The wine is optional.
Cooking tip:
As with any chicken dish, the longer you marinade the better.  If you can marinade in the morning and let the chicken infuse with flavor during the day, you will get a more tender chicken.  If you do marinate the chicken in the morning, you would want to cover the bowl and place it in the fridge.  This is only if you have the time.  If you are making this recipe last minute, don't worry, even a few minutes of the chicken marinating will help make it tender.
20 minute vegetables to serve with the skillet chicken:
While you are making the chicken skillet you can also have a vegetable cooking on the side.  This way you will have a full meal in under 30 minutes.  Here are a few suggestions:
Sautéed Swiss Chard with Garlic
Zaalouk (Warm Moroccan Eggplant and Pepper Salad
Diane Kochilas' Warm Zucchini Salad with Roasted Citrus and Basil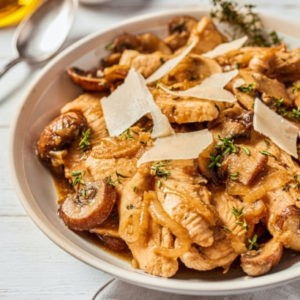 Chicken Skillet with Mushrooms and Slivered Parmesan
Ingredients
1 1/2

pounds

chicken breast

3

tbsp

extra virgin olive oil

1

tbsp

balsamic vinegar

1/2

tsp

salt

1/2

tsp

pepper

1

tsp

dried thyme

1/4

cup

white wine

1

onion, sliced into rounds

10

ounces

Portobello mushrooms, sliced

1/2

cup

vegetable broth

1-2

ounces

parmesan from a block of parmesan, sliced thinly
Instructions