There are a few places you can get the wine for this tagine recipe:  1) Search your liquor cabinet for a couple of bottles of half-drunk red wine, 2) peruse the bargain bin at your local liquor store, or 3) ask a cheap friend to bring some red wine to dinner (use their wine for this recipe and switch out a good bottle for the dinner).  However you get the wine, the cheaper the better!  This is a great Mediterranean diet dinner when you are feeling lazy and don't want to spend much time prepping. If you buy baby carrots and pre-sliced mushrooms you won't even need a cutting board!  Once everything is in the pot, you can spend the rest of the time eating appetizers and drinking the good bottle of wine!
Adapted from a recipe by Tracy Karbus
Photo by Christine Dutton
Here are some other Tagine Recipes to try:
Instant Pot – Moroccan Chicken Tagine with Green Olives, Peppers and Lemon
Chicken Tagine with Peppers and Olives (Dutch Oven)
Chicken, Oranges, and Mixed Olives Tagine
Moroccan Chicken Tagine with Sweet Potatoes and Raisins (Slow Cooker)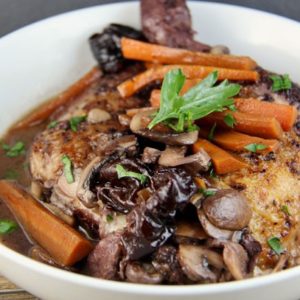 Chicken Tagine with Prunes and Cheap Wine
Ingredients
8

chicken drumsticks with skin

2

tbsp

extra virgin olive oil

1/2

pound

carrots (baby or regular carrots sliced into thin strips)

1/2

pound

pitted prunes

1

bottle

cheap Cabernet wine

1

tsp

plus dash oregano, dried

1

tsp

salt

1

tsp

pepper, to taste

10

ounce

package mushrooms, sliced
Instructions
Season drumsticks with salt and pepper and oregano.

In a large thick bottomed pan heat oil on medium and then sear chicken until browned.

Add carrots, prunes, and the bottle of cheap wine.

Bring to a boil. Add oregano, salt, and pepper. Simmer covered 1 hour or until carrots are tender.

Add sliced mushrooms and simmer covered another half hour or until mushrooms are cooked.
Nutrition