I have been making Mediterranean fried chicken for over 20 years now.  The way I have always made it in the past is fried in extra virgin olive oil, but I decided to try it baked in a sheet pan in the oven along with asparagus and cherry tomatoes.  This way I make an entire meal all at once.  The caramelized cherry tomatoes pair beautifully with the parmesan and bread crumbs that coats the chicken.  This chicken sheet pan dinner is so good that you might want to eat it all at once, but it is also really good the next day.
The prep for this meal takes 15-20 minutes tops.  After preheating the oven to 350 degrees Fahrenheit, all you have to do is prep the vegetables and then the chicken.  You can prep the vegetables in the sheet pan, but I like to do it in a bowl to ensure that the veggies are completely coated with oil and spices.  Once coated then add the vegetables to the sheet pan.  Make sure you spread them out as evenly as possible.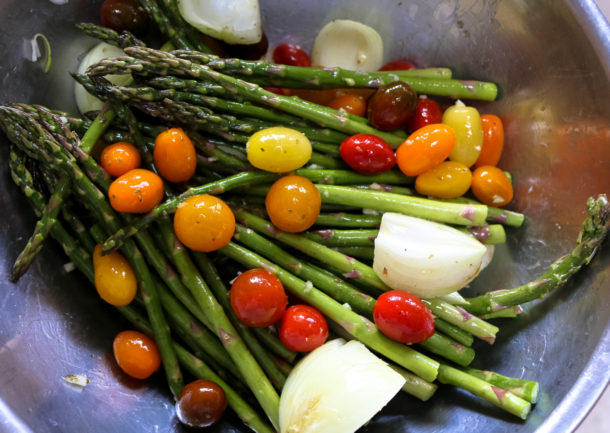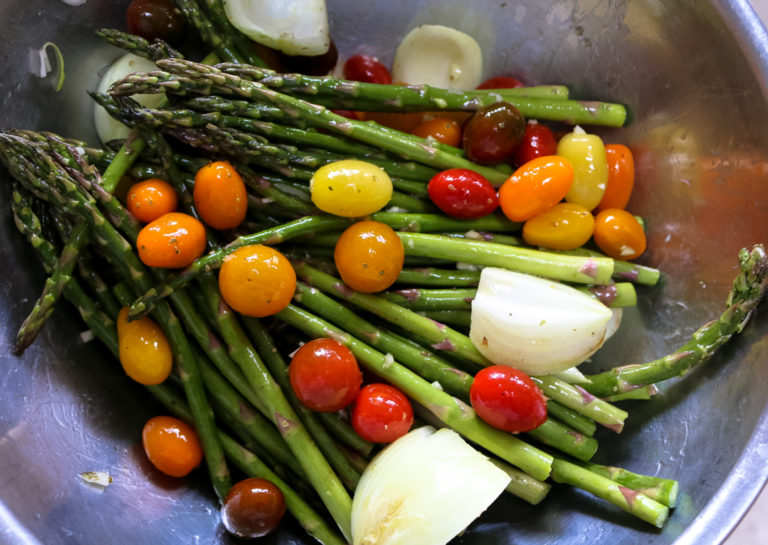 Next step to creating this chicken sheet pan dinner is getting the bowls of egg and parmesan/bread crumb mixture ready for coating the chicken.  I add smoked paprika and pepper to the parmesan/bread crumb mixture to give it extra flavor.  Whip an egg in one bowl and add the parmesan/bread crumb mixture to another small bowl.  Some people use whole chicken breasts for the fried chicken, but I find that this recipe comes out better with smaller pieces of chicken whether it is strips of chicken breast or my favorite: chicken tenders.  I like the tenders because they are the perfect size and ready to use right away.  This saves the time of cutting up the chicken into slices.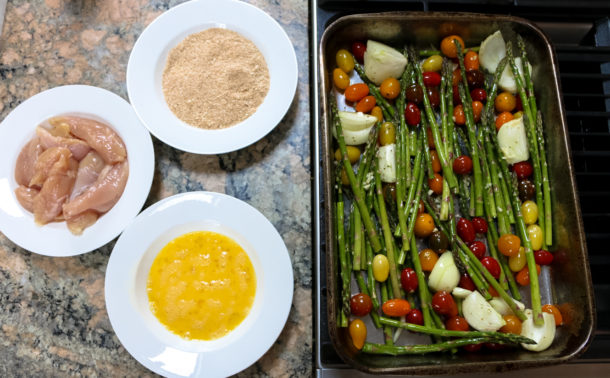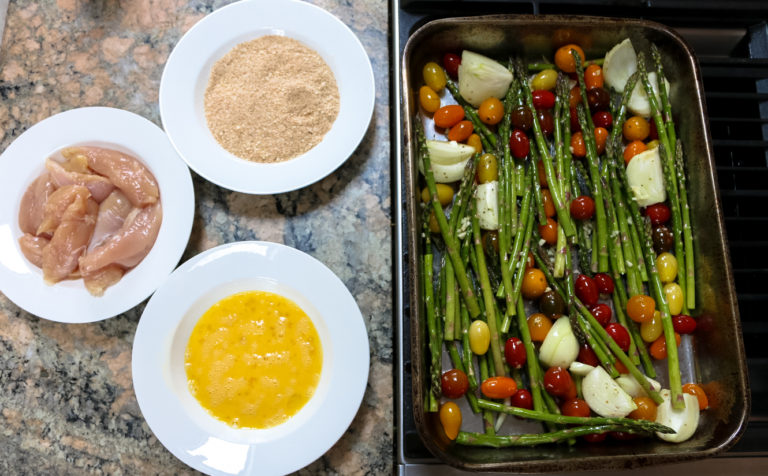 Once you have the bowls ready you simply coat each piece of chicken first with egg and then with the parmesan/bread crumb mixture.  Make sure that each piece is completely coated and then place on top of the vegetables in the sheet pan.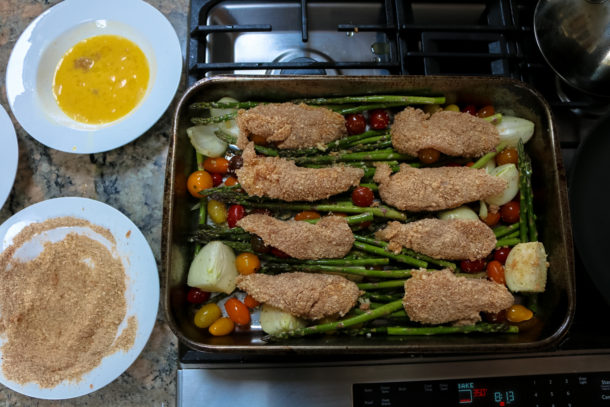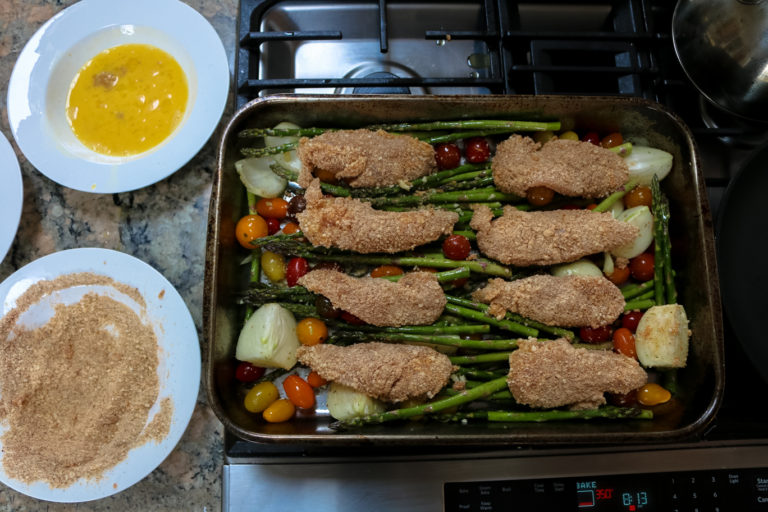 Once all the chicken pieces are in the sheet pan, then bake in the oven for 30-40 minutes until the chicken is a golden brown and is cooked all the way through.  The vegetables will have naturally caramelized and the flavors will be fantastic!  The last step is to broil the chicken for 1-2 minutes.  Be very careful not to burn the tenders, but this steps gives the chicken a crispiness resembling fried chicken fried in oil.  I hope you enjoy this chicken sheet pan dinner and please don't forget to rate and review on the site.
A few salads to go with Mediterranean Fried Chicken with Tomatoes and Asparagus:
Apple, Walnut and Gorgonzola Salad with Dijon Vinaigrette
Avocado, Radish and Cucumber Salad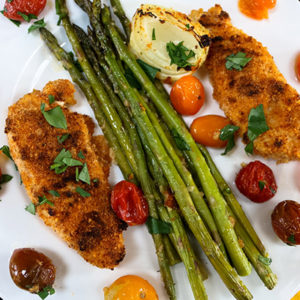 Mediterranean Fried Chicken with Asparagus and Tomatoes