On my recent trip to Crete with Bill and Christine, they remarked that my menu choices at tavernas were not things they would usually select, and they appreciated the novelty of being introduced to some different things.  Mussels marinara is one of those dishes.
I ordered mussels marinara at a taverna called Achilleas in Chania.  I think we were all expecting to see the mussels in the shell — but the delight is that this dish called for mussel meats — saving us the pick-and-eat process and gifting us the enjoyment of meaty mouthfuls of yumminess.
I knew I had to bring this one back to my own kitchen so I made a video right away.
The flavor pallet of this mussels marinara recipe is like an Italian sausage grinder with peppers, onions and sauce like the street-food from a ball park or parking lot outside a summer concert.  The fennel, sage and onions invoke that aromatic impression and the mussels, instead of that old pork sausage, make this dish more healthy and still plenty satisfying.
The visual is the beautiful orange meat in a light sauce, the onions and bright green peppers falling around it in equal amounts, highlighted with white chunks of cheese.  I think the mussels marinara sauce should be light red and clinging, but you might like it more soupy so you can experiment with or without the reserved broth.  This pairs well with crusty breads, a real greek salad, and another seafood or vegetable main dish.
I've prepared this recipe for lactose-intolerant friends, omitting the feta cheese, and it is still wonderfully delicious!
Cooking and cleaning the mussels ahead of time works well for this recipe if you want to break up the prep work.  Mussel meats will keep, refrigerated, for a few days, but freshest is always best. Keep the meats separate from the broth so that they don't get soggy.
Try these links for some more seafood recipes from the Mediterranean:
Baked Cod with Sun-Dried Tomatoes and Olives – also by Gerry Leblanc
Grilled Swordfish with Lemon Parsley Topping (Greece)
Pan-Fried Scallops with Hand-Chopped Pesto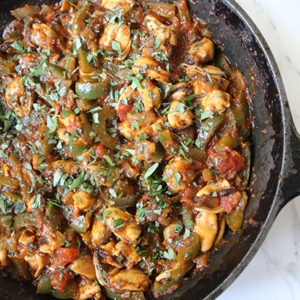 Mussels Marinara with Fennel (Greece)