The first time I ever had patatas bravas was in Madrid when I was 17 years old.  I loved to eat then, but I didn't know much about food.  I went into a tapas bar with my friends and saw a tray of cooked potatoes that had a bright red sprinkling of spices on them   They looked spicy to me.  I pointed to the potatoes and asked the guy, "are those hot".  He looked at me and said, "no, not hot at all".  I ordered them, drank a sip of beer and took a bite.  It was the hottest thing I had ever eaten.  He laughed at me and called me "Americano!".  Live and learn.
Okay, the recipe below is not hot in that way.  It is a different type of patatas bravas.  It is lemony, smokey and vinegary.  The sauce is so good that I eat the rest of it with bread once the potatoes are gone.  It is a super easy recipe to make that is great for parties or for a side at dinner.  In Spain, it would be just one of many small dishes (tapas) that would be served with beer or wine.  Tapas parties are great fun and if you chose the right recipes is a very simple way to make an elegant evening.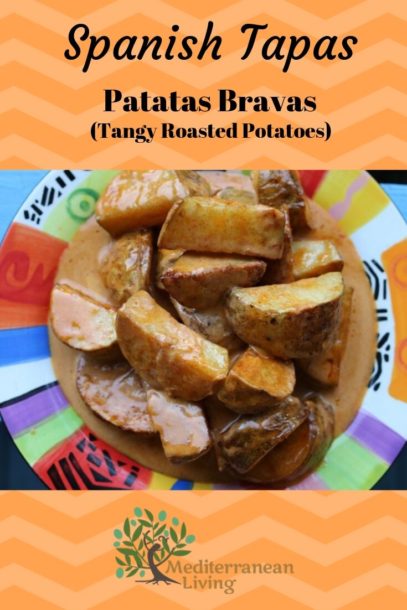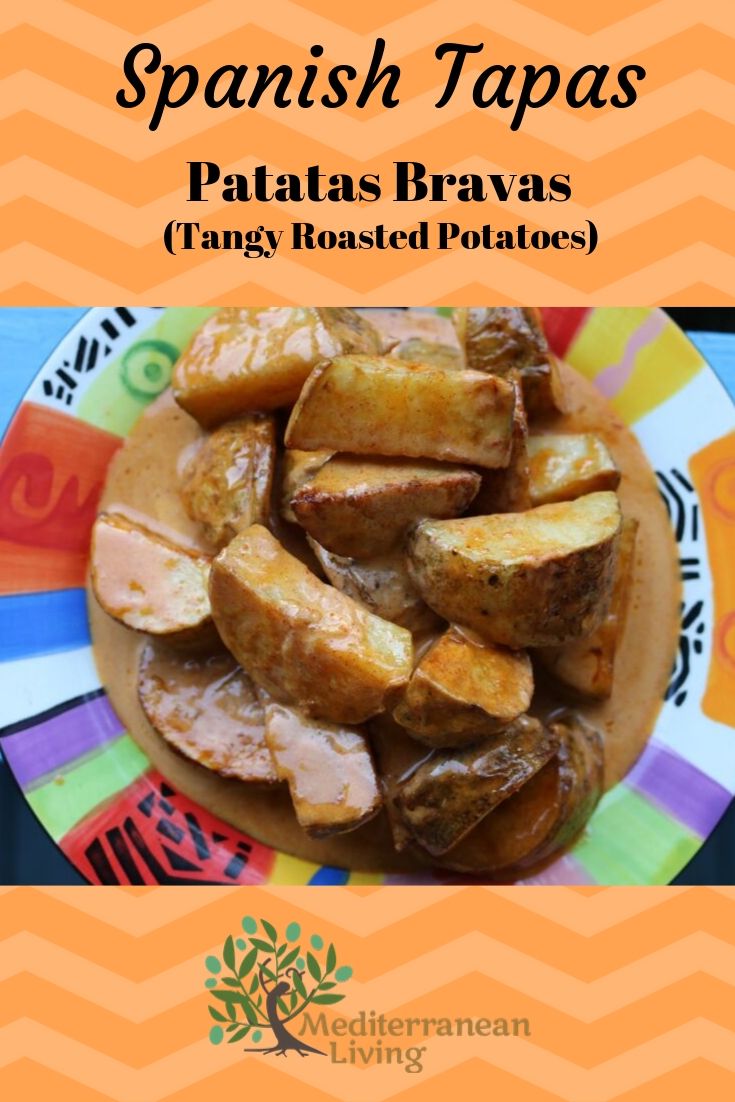 If I were having a tapas party I would start with Chorizo, Manchego and Olive Skewers (topped with honey), Roasted Almonds and Sizzling Lemon Garlic Shrimp.  Next, I would serve the patatas bravas alongside a sautéed swiss chard with garlic and bread, of course!  From there, I would serve Sautéed Mushrooms with Garlic and Thyme alongside a meat, chicken or fish tapa.  One of my favorites is Albondigas, Spanish Meatballs.
Spanish tapas are usually served with beer or wine and traditionally are enjoyed for hours as one dish comes out after another.  It is a great way to spend an evening with friends, enjoying delicious food and camaraderie.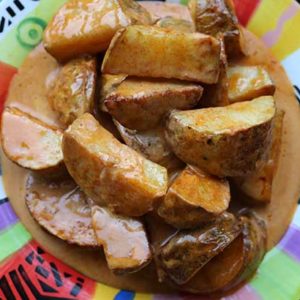 Patatas Bravas (Spanish Potatoes Tapas)
Ingredients
ROASTED POTATOES:
4

large

or 6 medium russet potatoes

1/4

cup

extra virgin olive oil

Sprinkle of salt
PATATAS BRAVAS SAUCE:
1/4

cup

mayonnaise

1/2

cup

extra virgin olive oil

1/4

cup

lemon juice

2

tsp

sherry vinegar (can use apple cider vinegar, but sherry is the best)

2

tsp

smoked paprika

1/4

tsp

cayenne