If you want to make people happy cook them some roasted winter vegetables and top it with a tasty sauce.  It can't be much easier than that.  When done right, the potatoes, carrots and beets should be caramelized on the inside and perfectly browned on the outside.  Patience is the key.  Don't take them out of the oven to early.
The winter vegetables in this recipe all came from our farm share so they were super rich with the colors of fall when they came out of the oven.  I like to call the garlic 'aioli' I made for this "faux aioli" just because I like the way it sounds.  I know food connoisseurs will be offended by anything that isn't real aioli, but this sauce takes two minutes to make and doesn't have the raw eggs that make some people shy away from real aioli.  Don't judge please!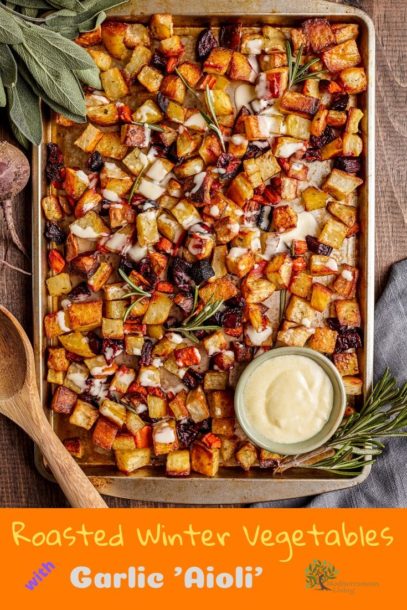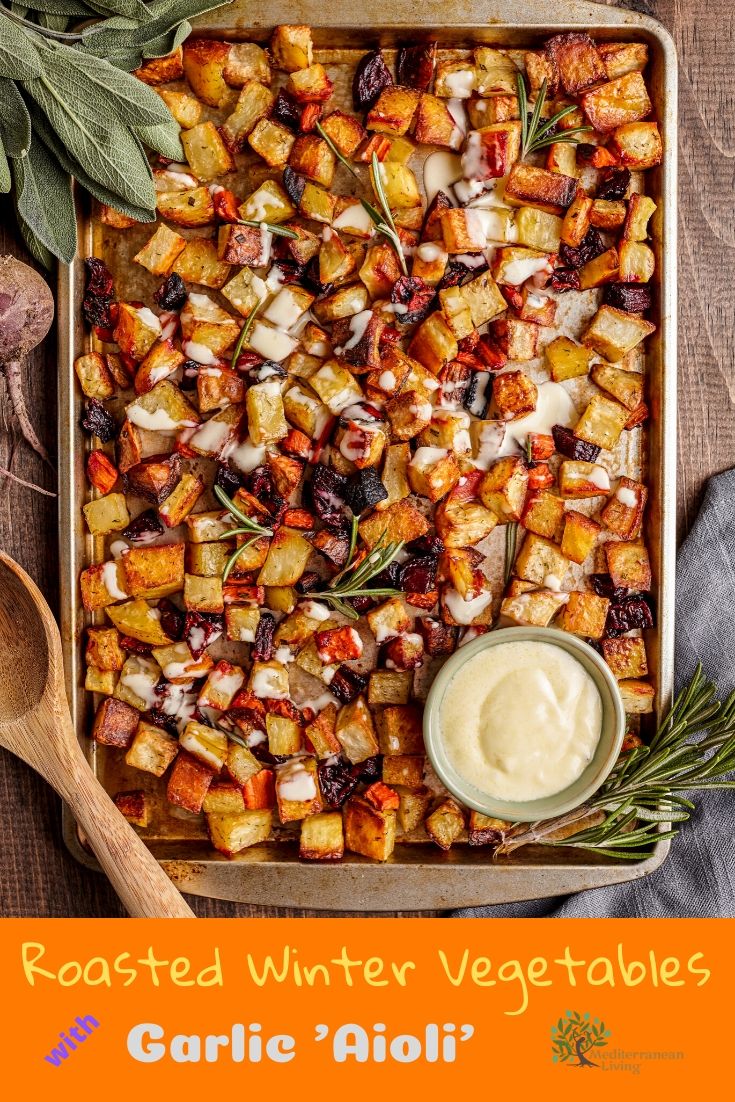 And then there are those who are against potatoes, carrots and beets for one reason or another.  Well, I could go into a diatribe about the fiber, potassium and vitamin C in potatoes or the fiber, beta carotene and antioxidants in carrots or the fiber, vitamin C  and blood pressure lowering nitrates in beets, but mostly I want to point out that the healthiest people in the world, the people with the highest longevity rates eat potatoes, carrots and beets.  That is good enough evidence for me!
Finally, there is the olive oil.  Yes, lots of olive oil.  Just as they eat in the Mediterranean.  Enjoy it!
Christine and I ate these with a simple fish recipe (tilapia with lemon, parsley and cilantro).  They would go wonderfully with almost any meat, chicken or fish.  If you are vegetarian, these would also go great with most bean dishes.  There is also the possibility of eating them on their own with a salad on the side.
Here are a few recipes I would recommend to go with roasted winter vegetables with garlic 'aioli':
Grilled Swordfish with Lemon Parsley Topping
Bean Burgers with Garlic and Sage
Armenian Losh Kebab (Lamb and Beef Burgers)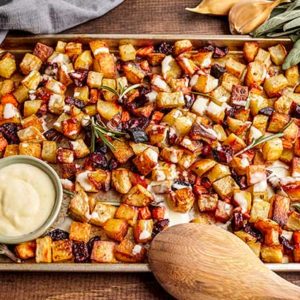 Roasted Winter Vegetables with Garlic 'Aioli'
Ingredients
WINTER VEGETABLES
`1

large

beet, peeled and cut into small ½" cubes

2

large

carrots, peeled and cut into small ½" cubes

2

large

russet potatoes, peeled and cut into small ½" cubes

1/2

cup

extra virgin olive oil

1/2

tsp

salt

1/2

tsp

black pepper

1/2

tsp

sage, dried

1/2

tsp

dill, dried

1

tbsp

rosemary, fresh or dried, minced
GARLIC 'AIOLI'
1

clove

garlic, minced fine or pressed

3

tbsp

mayonnaise

4

tbsp

extra virgin olive oil
Instructions
Preheat oven to 400 degrees F.

In a large bowl, add cubed vegetables, olive oil, salt, pepper, sage, dill and rosemary. Mix well until all vegetables are evenly coated. Pour vegetables onto a large sheet pan. Bake in oven for 30-40 minutes, stirring vegetables every 15 minutes. You want the vegetables to be roasted until they are caramelized and just on the edge of crispy.

In a small bowl, add minced garlic and mayo. Whisk in olive oil 1 Tablespoon at a time. Drizzle 'aioli" onto vegetables and serve immediately.
Nutrition
Calories:
627
kcal
Carbohydrates:
44
g
Protein:
6
g
Fat:
49
g
Saturated Fat:
7
g
Polyunsaturated Fat:
9
g
Monounsaturated Fat:
32
g
Trans Fat:
1
g
Cholesterol:
4
mg
Sodium:
446
mg
Potassium:
1123
mg
Fiber:
5
g
Sugar:
8
g
Vitamin A:
6069
IU
Vitamin C:
16
mg
Calcium:
56
mg
Iron:
3
mg