Here is another traditional Greek recipe from our favorite Cretan chef, Koula Barydakis. She made this for us on our last day of our most recent trip to Crete and it was so good we had to share it with you.  This is a different version of stuffed eggplant where you roll eggplant around a succulent ground beef and feta mixture and top with homemade tomato sauce.  The eggplant is first fried in extra virgin olive oil.  There is a common misperception that one cannot fry healthfully with olive oil.  What you don't want your olive oil (or any oil) to ever do is smoke.  Once oil is smoking then it is carcinogenic, but there is a fifty degree difference between when olive oil begins to fry and the smoking point.  In other words, you can safely fry with olive oil just not at super high heats.  As long as you fry at a medium heat you will be fine.  If the oil gets too hot and begins to smoke then you will want to throw the oil out.
These eggplant rolls are wonderful for a weekend meal.  There is something innately satisfying about creating this kind of healthy comfort food meal from scratch.  It will make you happy that you created such a rich and delicious recipe for your friends and/or family.  Personally, I will be making these for backyard grilling parties alongside grilled Souvlaki, sweet potatoes and asparagus.
Stuffed eggplant rolls can be served as an appetizer, side dish or as the main meal.  If you were to serve it for dinner I would accompany it with a salad such as a traditional Greek salad or a Quinoa Salad with Cucumber and Olives.  I would also include some simple vegetable side dishes like Roasted Cauliflower with Herbs or Sautéed Swiss Chard with Garlic.  Enjoy!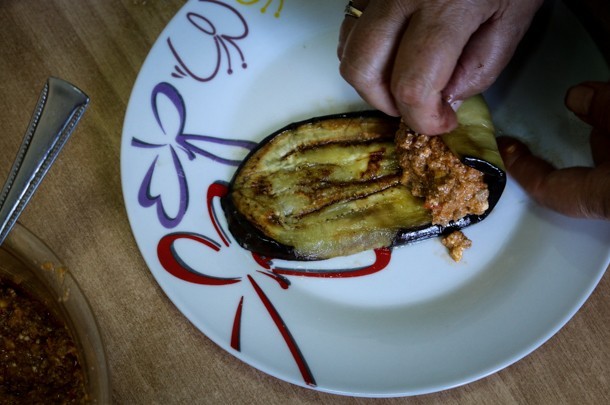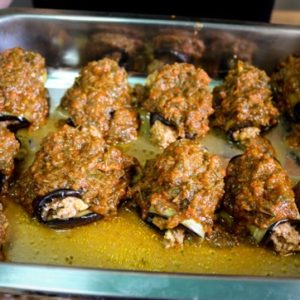 Stuffed Eggplant Rolls w/ Ground Beef & Tomato Sauce